In addition to using the major social networks to create personal profiles, build networks of friends and other connections, share photos, videos and music, many tech-savvy young people are turning to smartphone-based messaging apps for these functions. Popular apps such as Kik, Whatsapp, KakaoTalk, LINE and WeChat are growing in popularity throughout the U.S., Europe and Asia.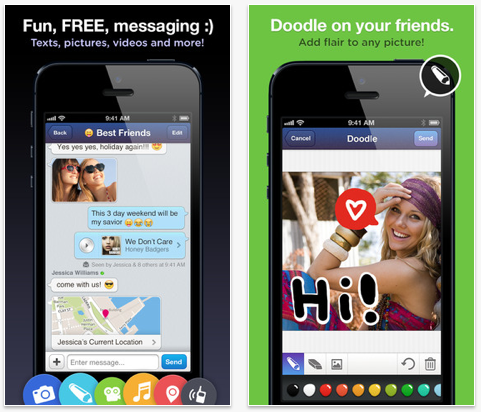 Each of those combines elements of text messaging and social networking, providing users quick ways to communicate and trade media while "bypassing both the SMS plans offered by wireless carriers and established social networks originally designed as websites," reports Reuters.
Thus, even as Facebook remains the world's most popular website and even as it can boast the most-used smartphone app, there is concern about the long-term trajectory of these messaging apps.
"Across Silicon Valley, investors and industry insiders say there is a possibility that the messaging apps could threaten Facebook's dominance over the next few years. The larger ones are even starting to emerge as full-blown 'platforms' that can support third-party applications such as games," writes Reuters.
"True interactions are conversational in nature," said Rich Miner, a partner at Google Ventures who invested in San Francisco-based messaging service MessageMe (pictured above). "More people text and make phone calls than get on to social networks. If one company dominates the replacement of that traffic, then by definition that's very big."
This shift to messaging apps further drives home the obvious truth that Internet interaction is increasingly mobile rather than desktop-focused. Because of that, Facebook CEO Mark Zuckerberg has been referring to his social network as a 'mobile company,' emphasizing it as the top priority.
So while Facebook and other social networks aim to incorporate messaging services and functions, the messaging services are aiming for increased social networking functionality. "If the messaging apps reach a certain scale, they could form networks that rival Facebook's 'social graph,' the network of user connections and activities that enable highly targeted delivery of content and advertising," suggests the article.
Topics:
Asia
,
Europe
,
Facebook
,
Google Ventures
,
Kik
,
LINE
,
MessageMe
,
Mobile Messaging
,
Smartphone
,
SMS
,
Social
,
Social Network
,
Tablet
,
tech-savvy
,
U.S.
,
WeChat
,
WhatsApp
,
youth
,
Zuckerberg