At a White House summit, President Joe Biden asked leaders of Apple, Google, JPMorgan Chase and other major companies to step up their response to cybersecurity threats. The administration, which estimated that about half a million cybersecurity jobs remain unfilled, said it would assist in developing new guidelines for secure technology and assess the security of existing technology. Google, Microsoft, and insurance companies Travelers and Coalition have already signed on to the initiative. Microsoft plans to invest $20 billion over the next five years to integrate cybersecurity into its products and Google revealed its own $10 billion commitment.
The Washington Post reports that, at the summit, Microsoft chief executive Satya Nadella talked about steps the tech industry could take regarding cybersecurity, and JPMorgan Chase chief executive Jamie Dimon talked about ransomware and other problems impacting financial services.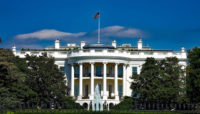 Apple chief executive Tim Cook, IBM chief executive Arvind Krishna and Google/Alphabet chief executive Sundar Pichai "sat to Biden's right as he addressed the executives." Also present were Amazon chief executive Andy Jassy, and chief executives "from major banks and insurance, energy and water companies … [and] representatives from nonprofit organizations focused on computer science education, including Girls Who Code, and several colleges."
According to Center for Strategic and International Studies senior fellow Emily Harding, the summit was "largely a signal from the president to the private sector that he cares about cybersecurity issues … [and] also signifies the recent onslaught of hacks will probably be addressed in the future with legislation and executive orders."
The group at the summit "committed to identify a course of action and reconvene in a month." IBM vice president of government and regulatory affairs Christopher Padilla said that, among the summit attendees, "even though there's a lot of competition, it was a very collaborative discussion."
WaPo notes that, "it was significant that the administration included multiple cybersecurity insurance companies in the discussions, adding that insurance companies could force better behavior throughout the industry." One of them, Resilience, said "it will require policyholders to adopt certain cybersecurity best practices as a condition of receiving cyber insurance."
The Wall Street Journal reports that, "senior White House officials have said for months that the problem is one of shared responsibility between government and industries — particularly those responsible for operating the nation's critical infrastructure — and have recently suggested the administration could look to pursue mandates if voluntary security standards aren't widely adopted."
In addition to pledging $20 billion to integrate cybersecurity into its products, Microsoft said "it would make available $150 million in technical services to help federal, state and local governments modernize technology." Google added that it would "train 100,000 people in information technology and data analytics … [and] IBM said it would help educate at least 150,000 people in cybersecurity over the next three years, including by partnering with more than 20 historically Black colleges and universities."
Topics:
Alphabet
,
Amazon
,
Andy Jassy
,
Apple
,
Arvind Krishna
,
Christopher Padilla
,
Coalition
,
CSIS
,
Cybersecurity
,
Data Analytics
,
Emily Harding
,
Girls Who Code
,
Google
,
IBM
,
Insurance
,
Jamie Dimon
,
Joe Biden
,
JPMorgan Chase
,
Microsoft
,
Ransomware
,
Resilience
,
Satya Nadella
,
Security
,
Sundar Pichai
,
Tim Cook
,
Travelers Co.
,
White House