California-based data technology company Western Digital is purportedly in "advanced merger talks" with Japan's computer memory firm Kioxia Holdings, according to sources who added that a deal could be inked as soon as mid-September. Western Digital's shares rose 8 percent in reaction to the Wednesday news and continued to rise on Thursday. Sources said Western Digital would complete the deal with stock and that its chief executive David Goeckeler would run the combined company. According to Barron's, the deal would be valued at about $20 billion.
Yahoo Finance reports that, "there's no guarantee such a merger will ever take place, [since] Western Digital, which boasts a market value of about $19 billion, might opt out, while Kioxia might decide to move forward with a planned initial public offering." However, if the deal is completed, "it would shake up the chip market in a big way."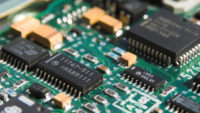 According to Wells Fargo analyst Aaron Rakers, "the combined company would account for up to 35 percent of the world's flash storage production and revenue … [and] also bring a large number of flash memory manufacturing assets under Western Digital's roof, including intellectual property and equipment." Barron's stated that the deal "would probably require regulatory approval in Japan, China and the United States."
The Wall Street Journal reports that, "perhaps the biggest regulatory hurdle would be China, which has been increasingly aggressive in its antitrust enforcement, helping scuttle potential deals including Qualcomm's proposed $44 billion purchase of Dutch chip maker NXP Semiconductors in 2018."
Among the "burst of acquisition activity among chipmakers," Advanced Micro Devices spent $35 billion to buy Xilinx, Nvidia bought out Arm Holdings for $40 billion, and Analog Devices acquired Maxim Integrated Products for $20 billion. Intel also recently "explored purchasing GlobalFoundries," although "the chip-production firm, owned by an investment arm of the Abu Dhabi government, is planning an IPO and has so far been unreceptive."
New smartphones, 5G and demand for PCs and servers has raised demand for memory chips and, "in a reflection of the demand, flash-memory prices have shot up in recent months," which boosted Kioxia's valuation. When the company planned (and abandoned) an IPO last fall, it expected a valuation of about $16 billion. Kioxia and Western Digital already have a joint venture "for manufacturing and research and development that was set to expire starting in 2027."
WSJ notes that, "that agreement appears to have given Western Digital a leg up on Micron, which has a market value of $83 billion and could have more easily pulled off a full takeover" of Kioxia. The existing relationship also could "help make a WD-Kioxia combination more palatable to regulators."
Kioxia was formerly part of Toshiba and known as Toshiba Memory. A group led by Bain Capital that included Apple, Dell Technologies, Kingston Technology and Seagate Technology purchased it in 2018 for about $18 billion, with Toshiba retaining a 40 percent stake in the business.
Related:
Western Digital Shares Soar Following $20 Billion Merger Report, CNBC, 8/25/21
Topics:
Aaron Rakers
,
Abu Dhabi
,
AMD
,
Analog Devices
,
Antitrust
,
Apple
,
ARM Holdings
,
Bain Capital
,
China
,
Chip
,
David Goeckeler
,
Dell Technologies
,
Flash Memory
,
GlobalFoundries
,
Intel
,
IPO
,
Japan
,
Kingston Technology
,
Kioxia
,
Maxim Integrated
,
Micron
,
Nvidia
,
NXP Semiconductors
,
Qualcomm
,
Seagate
,
Toshiba
,
Wells Fargo
,
Western Digital
,
Xilinx