At the conclusion of the inaugural meeting of the White House's American Technology Council, President Donald Trump called for a "sweeping transformation of the federal government's technology," admitting that the government needed to catch up with the private sector and that federal agencies had to deliver "dramatically better services to citizens." The Council's mandate is to convert paper forms into easy-to-use websites, and help the government buy better technology and use new tools like artificial intelligence.
Recode reports that Trump "sought the tech industry's help," in a day of private meetings with top executives at Amazon, Apple, Google, Intel, Microsoft, Oracle and Qualcomm.
At a public gathering at the end of the meeting, Amazon chief exec Jeff Bezos "called on the U.S. government to take advantage of commercial technology," Palantir chief Alex Karp offered support to utilize big data to "spot fraudulent federal spending," and Apple CEO Tim Cook declared that, "Washington should make coding a requirement in schools."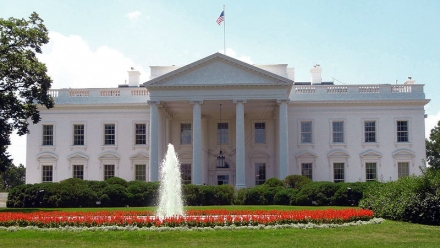 Although the meeting presented a united front, "Trump and tech have long maintained an icy relationship, most recently battling over the president's decision to withdraw the U.S. from an international climate agreement," which led Elon Musk to skip the Council meeting. The White House downplayed political differences with attendees, such as Alphabet executive chair Eric Schmidt who backed Hillary Clinton.
"We will work with individuals, regardless of what their past political beliefs are, to further the president's agenda and to bring ideas to the table," said presidential spokesperson Sean Spicer.
The Wall Street Journal reports that, "Trump called for more than $1 trillion in savings during the next 10 years by overhauling outdated computer systems and improving information technology." During the Council, Trump senior advisor Jared Kushner pointed out that some of the federal government's 6,000 data centers use software that is between 39 and 56 years old, while the Pentagon partially relies on floppy disks.
In addition to Kushner, who leads the newly created White House Office of American Innovation, former Microsoft executive Chris Liddell heads this current White House effort. Liddell said the tech executives had suggested good ideas. "Our job is now to collate those and decide which ones we want to pursue," he said.
The White House will convene another meeting on Thursday to discuss emerging technologies. Top FAA officials and drone manufacturers will discuss "regulatory and safety challenges," and FCC chair Ajit Pai will be in attendance to "solicit the tech industry's thoughts about 5G wireless technologies" and the Internet of Things.
Topics:
5G
,
Ajit Pai
,
Alex Karp
,
Alphabet
,
Amazon
,
American Technology Council
,
Apple
,
Artificial Intelligence
,
Big Data
,
Chris Liddell
,
Donald Trump
,
Drones
,
Elon Musk
,
Eric Schmidt
,
FAA
,
FCC
,
Google
,
Hillary Clinton
,
Intel
,
Internet
,
Internet of Things
,
Jared Kushner
,
Jeff Bezos
,
Microsoft
,
Oracle
,
Palantir
,
Qualcomm
,
Sean Spicer
,
Tim Cook
,
White House
,
Wireless