In a private meeting with no media in attendance, more than 100 executives from some of the world's largest financial institutions met at NASDAQ's New York City office. They gathered to delve deeper into the promise of blockchain, the technology behind Bitcoin, which became active in 2009. These financial institutions have been wary of Bitcoin, because users are anonymous and can engage in money-laundering and other banking violations. What they looked at was digital U.S. dollars, a "fiat currency" that avoids those risks.
Bloomberg reports that the event was "a key moment in the evolution of blockchain." The event — with executives in attendance from NASDAQ, Citigroup, Visa, Fidelity, Fiserv, Pfizer and others — was produced by Chain, a startup "trying to rewire the financial industry."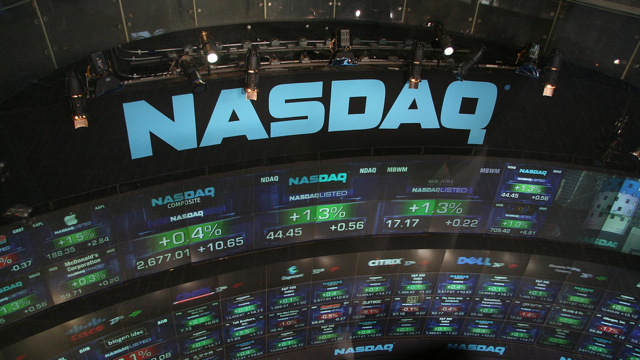 "By the end of the day," suggests Bloomberg, "they had seen something revolutionary: U.S. dollars transformed into pure digital assets, able to be used to execute and settle a trade instantly." Fiserv CTO Marc West said they "created a digital dollar" to show participants how an instant debit/credit works on a blockchain. "This is the first time the money has moved," he explained.
Chain also introduced Chain Open Standard, an open-source blockchain platform the company has been working on for over a year. Chain handles the "complicated elements needed for a blockchain to work," says Bloomberg, enabling customers to build custom solutions on top.
"Blockchains are networks, so we think collaboration is important," said chief executive Adam Ludwin. "But what's even more important than collaboration at the beginning is getting the model right."
In the current system of electronic payments, moving money between accounts can take days as banks await confirmations. With blockchain, digital dollars are pre-loaded into the system and then can be swapped immediately for an asset. "Instead of a record or message being moved, it's the actual asset," explained Ludwin. "The payment and the settlement become the same thing."
Citigroup executive Ian Lee says many companies are facing the problem of "how to make blockchain a reality for their business." "While blockchain technology has a lot of potential, it will need to integrate with and co-exist with the financial system that exists today," he said.
Ludwin believes Wall Street has "validated" blockchain and creating solutions is the next step. "Putting it all together is no small amount of work, nor is re-engineering business processes within large organizations," he said. "This isn't 'financial engineering'. This is software engineering that is going to reshape financial services."