This December, Washington-based game company Valve will debut its long-anticipated Steam Deck, a handheld device for PC gaming with models priced at $399 with 64GB of eMMC storage, $529 with 256GB of NVMe SSD, and the top-of-the-line $649 version with 512GB of high-speed NVMe SSD storage. Steam Deck is additionally being promoted as a handheld PC, allowing users to install and operate web browsers, other game stores (including Epic Games Store) and other video streaming services. It can also be connected to a keyboard and mouse and offers a cloud saving feature.
Wired reports that the cloud feature will also store a user's existing Steam library, enabling her to move between the Steam Deck and PC seamlessly. "We don't think people should be locked into a certain direction or a certain set of software that they can install," said Valve designer Lawrence Yang. "If you buy a Steam Deck, it's a PC … Maybe a better way to think about it is that it's a small PC with a controller attached, as opposed to a gaming console."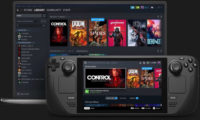 The Steam Deck is "a rectangle with two thumbsticks and a 7-inch LCD touchscreen" offering 1280 x 800-pixel resolution and a 60Hz refresh rate and two square trackpads for "PC games that were never designed to be handheld."
Valve stated that the Steam Deck "will have 55 percent better latency compared to the Steam Controller" and will also feature four rear buttons that "will function much like a keyboard and are totally customizable depending on users' keybinding preferences." The device also comes with microSD card slots, "helpful for installing enormous games optimized for PC, like 'Death Stranding', which may not even fit on that 64GB base model."
Battery life is estimated at between seven and eight hours. One reviewer said, "the Steam Deck is able to smoothly run current PC games at medium or high settings because of its 720p resolution target." Wired notes that, "Valve has a history of releasing ahead-of-the-curve hardware that doesn't quite work out," referencing the 2015 Steam Machine, the 2015 Steam Link and its "well reviewed but not very popular" VR headsets.
The Verge reports that Steam Deck is "powered by an AMD APU with a quad-core/eight-thread Zen 2 CPU and an AMD RDNA 2 GPU with 8 compute units, alongside 16GB of LPDDR5 RAM. Valve stated that, despite the three models, "there is no in-game difference in frame rates or graphics quality" among them.
Nintendo's Switch has "a similar handheld configuration, screen size, and design" as well as 720p touchscreen display but, "of the two, the Switch is almost certainly the less powerful device," based on the chipset. The Steam Deck, it adds, "has also been shown off handling games that the Switch simply can't, like 'Control' (which is only available as a cloud-streamed option on Nintendo's handheld.)"
The 0.93-pound Switch is lighter than the Steam Deck, at 1.47 pounds; and, it adds, "the Switch does win out in battery life." But the Steam Deck is a full-fledged PC, unlike the Switch. Still, the two platforms are "far closer to each other than the dramatically more powerful Xbox Series X and PlayStation 5."
Related:
HTML Holes Provide a Glimpse of Steam Deck's Initial Preorder Numbers, Ars Technica, 7/16/21