ETC@USC teamed with Charisma.ai, Digital Domain, Fable Studio and Write Brothers, Inc. to publish a white paper on an innovative character definition tool that enables casting audience members within a story. The goal is to help construct new immersive experiences across different narrative formats using a variety of authoring systems. The proposal features a Universal Character Model (UCM) that houses all motivations, goals and methods of any specific character in order to create consistent behavior within the fluid context of interactive and dynamic stories. The white paper is now available to the creative community.
"As autonomous characters get closer to reality, it will become necessary to build tools to assist writers as they move into a new role as narrative designers," explained Ken Williams, executive director and CEO of the ETC@USC.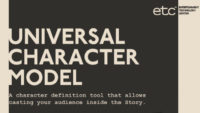 "The effectiveness of compelling stories and the development of deeply engaging characters is a goal quite different from chatbots," said Williams. "To forecast the path forward ETC gathered a select Autonomous Character Working Group. The main task the group adopted was to collectively address the needs of creatives as they will be increasingly utilizing AI approaches to constructing open and yet bounded experiences."
"As the goal was to advantage creatives as we incorporate AI tools to deepen story immersion, the working group included creatives with extensive technology experience," noted ETC's George Gerba, who led the white paper team. "The working group included Pete Billington, co-founder of Fable Studio; Guy Gadney, co-founder and CEO of Charisma; Chris Huntley, VP of Write Brothers and co-creator of Dramatica; and Doug Roble, senior director of software R&D at Digital Domain. The paper was written by narrative designer Rianna Dearden, head writer at Charisma."
The working group determined that the UCM is not only beneficial to new immersive storytelling processes, but necessary to create flexible and believable character-based experiences, reliable story environments and compelling stories.
According to the white paper: "Interactive stories are in the post-novelty phase, and audiences desire deeper engagement with characters. When audiences are cast inside a story, a UCM creates characters that feel like they have their own sense of purpose, their own life. Characters are no longer subservient, waiting for the audience to make a choice. Audiences are no longer on the outside, looking in, they are a part of the narrative."
"The next step is to construct a proof of concept of a UCM. This will combine the ideas behind this paper and blend existing technologies to form a prototype. Creating a proof of concept will solidify the technical requirements needed to make it a universal tool, advance the potential of the art, and rapidly advance the evolution of interactive storytelling."
"We hope you find this initial paper both interesting and engaging," Williams concluded. "We are open to continuing engagement with like-minded creators."
NOTE: The following applications can be used to open the white paper, once downloaded: Adobe Digital Editions (ADE), Calibre, EPUB File Reader, Apple Books, Stanza Desktop and Okular.