During the holiday season, to pump up motion picture theater attendance, Comcast's Universal Pictures is trying a new distribution model — releasing more movies and making them available sooner for online rental. On December 4, it will release "All My Life" to U.S. theaters, the eighth film slated for domestic release by the end of 2020. That's almost double its releases during the same period in 2019, and far more than other Hollywood studios. Meanwhile, AMC is offering its theaters for rent, starting at $99.
The Wall Street Journal reports that, "Universal's release strategy will allow the studio to test a plan to make movies available for online rental sooner than ever after they open in theaters." It will place lower-budget films in theaters, providing them with content, "while simultaneously carving out multiple opportunities to experiment with its new distribution model, which allows it to decide on the fly when to move new films online."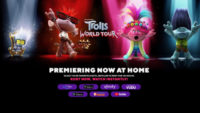 Universal film division chair Donna Langley summed it up: "[Theater owners] need us; we need them … everyone is looking for solutions for the short term and long term."
Universal's first test of the model was in April, when it released "Trolls World Tour" (above) as a premium-priced online rental "on the same day it was to have hit theaters." It has thus far earned $125 million in online revenue. Although AMC theaters initially raged against Universal's action, the company finally agreed to an exclusivity window of 17 days, down from about 75.
The AMC deal was "pivotal" in Universal's decision to move forward with so many releases during the holiday season. No other theater chain has adopted AMC's new model, but one source said Universal "expects to secure a significant number of distribution deals with other theater chains."
Smaller-budget movies make it easier for studios to cash in on the mixed distribution strategy. On November 25, Universal will release the $65 million "The Croods: A New Age" and then "News of the World," with Tom Hanks, on Christmas Day. Universal's Focus Features label will also unveil four films including "Let Him Go."
TechCrunch reports that "private theater rentals … [have become] a transitional approach that offers movie fans an opportunity to return to the movie-going experience without being surrounded by strangers." Except for the states of Alaska, Hawaii and New York, AMC will rent out a movie theater, with prices beginning at $99 for screenings such as "Jurassic Park" and "The Nightmare Before Christmas." For "Tenet" and "The New Mutants," however, prices go up to $349 for a screening.
Topics:
Alaska
,
AMC Entertainment
,
Christmas
,
Comcast
,
Distribution
,
Donna Langley
,
Exclusivity Window
,
Exhibition
,
Focus Features
,
Hawaii
,
Hollywood
,
Home Entertainment
,
Jurassic Park
,
Let Him Go
,
Movie
,
New York
,
Online Rental
,
Tenet
,
The Croods
,
Theatrical Release
,
Tom Hanks
,
Trolls World Tour
,
Universal Pictures