Activision Blizzard has become the first major North American video game company where workers have voted to form a union, the Game Workers Alliance. The vote, which took place over the last few weeks, passed 19 to 3, affecting 28 quality-assurance employees at the company's Wisconsin-based Raven Software subsidiary, which works on "Call of Duty" game development. Results were tabulated by the National Labor Relations Board on Monday. Activision has a week to lodge formal objections. The Communications Workers of America says it hopes the development "serves as inspiration for the growing movement of workers organizing at video game studios."
Activision Blizzard is in the process of being acquired by Microsoft, which in January announced its intent to purchase, a process that still requires regulatory and shareholder approval.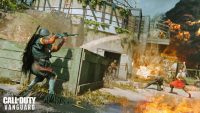 "The new union is the culmination of months of labor organizing at Activision, which has faced increasing pressure from employees to improve working conditions after a lawsuit accused the company of having a sexist culture in which women were routinely harassed," writes The New York Times, noting that "organizing at Raven in particular increased in intensity in December, when quality-assurance, or QA, workers walked out to protest the ending of about a dozen workers' contracts."
Unlike the recent unionization at Amazon's Staten Island warehouse — which was "homegrown" and primarily orchestrated internally — the CWA was a key player in helping with organization at Activision Blizzard. Although this instance could be characterized as a hybrid effort; prior Raven employee Jessica Gonzalez, who "formed ABetterABK, the activist group of Activision workers who have been pushing for the company to improve its culture," left Activision last year and now works at CWA, per NYT.
Los Angeles-based Activision has approximately 10,000 global employees. Preceding the vote, the gaming giant "was persistent in its attempts to stymie the unionization movement," writes The Verge, noting that "days after the GWA formed, Raven QA employees were broken out of their single department and distributed across multiple teams. The company also failed to voluntarily recognize the GWA, triggering the election process."
In the months leading up to the vote, Activision petitioned the NLRB for a reclassification that "could have potentially diluted the majority needed to formally elect a union," The Verge says.
"Employees in the video game industry have complained for years about poor pay, gender discrimination and 'crunch' — a term for arduous, 12-to-14-hour shifts given to workers in a rush to meet deadlines," writes The New York Times in a separate article.
In April, Activision converted more than 1,000 "temporary and contract employees to full time and granted them a minimum base pay starting at $20/hour," writes The Verge, adding that while the QA employees at Raven had previously been reclassified as full-time employees, "they were informed that they would not be eligible to receive the minimum salary pay bump."
Earlier this month, Game Rant wrote that the 12 Raven QA employees whose dismissal accelerated Activision's unionization were cut loose in an interference attempt that saw several other Raven employees "transferred to different departments in an attempt to quash the union election." Game Rant goes on to call unionization "a hot button issue in the gaming industry in recent years," with Keywords Studios also making unionization moves, and "major game developers like Nintendo being accused of union busting."
This past year, the small independent studio Vodeo Games became what NPR calls "the first unionized video game company in North America."