British legislators seem ready to make good on a threat to add criminal liability and jail time for high-level social media executives who fail to protect children from online harm as part of the Online Safety Bill. While the bill also aims to protect adults from fraud and malfeasance, its strictest provisions are geared toward child protection. The current proposal could win approval by the House of Commons within the week, and would then move to the upper chamber, the House of Lords, later in the quarter for further revision. Enactment is anticipated by year's end.

The bill will force Big Tech "to remove content deemed illegal or content that is barred by their own terms and conditions, or face fines or legal action," The Wall Street Journal reports, noting that the British government "is modeling its law on similar legislation that was passed last year in Ireland."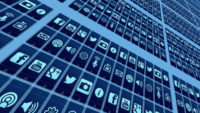 The draft UK bill provides that its communications regulator, Ofcom, can impose fines of up to 10 percent of the annual global revenues on companies that break the rules. The bill is "carefully designed to capture instances where senior managers, or those purporting to act in that capacity, have consented or connived in ignoring enforceable requirements, risking serious harm to children," Michelle Donelan, UK secretary of state for digital, culture, media and sport, said in WSJ.
In recent debate, outcry by a group of conservative lawmakers demanding stricter accountability resulted in promises that that the bill would be amended in the House of Lords to specify that "bosses could face two years in jail if they willfully ignore warnings from British regulators about illegal videos or images on their platforms that are deemed to threaten children," WSJ says.
Reuters says the compromise was reached "to avoid the prospect of a first parliamentary defeat for the prime minister."
Another notable recent development is a request by not-for-profit Wikipedia, compiled by thousands of volunteers, that it be "treated differently [than] the big social media firms in the Online Safety Bill," BBC News reports.
The bill made headlines last year when UK lawmakers announced their intent to fast-track it and increased the number of potential infractions. It is described by WSJ as "part of a new wave of regulation aimed at large technology companies" inspired in part by the European Union's Digital Services Act, which passed last year and is scheduled to take effect in 2023, putting companies like Alphabet and Meta Platforms in its crosshairs.