Apple is gearing up to make a big play for the smart home market, according to reports that put it on a trajectory to challenge Google and Amazon. This week, the company released a new HomePod smart speaker with superior audio, enhanced Siri capabilities, and better security. But a report surfaced of Apple preparing a dedicated smart home control device to rival the displays for Amazon's Echo Show and Google's Nest Hub. Although the iPad currently offers some smart home features, standalone devices are growing in popularity, kickstanding on countertops or mounted on walls.
Bloomberg "Apple whisperer" Mark Gurman is the first to tease a "push into smart displays" that "will start with a tablet product — essentially a low-end iPad — that can control things like thermostats and lights, show video and handle FaceTime chats," citing "people with knowledge of the plans."
The device is designed to mount on walls or other surfaces using magnetic fasteners, which makes it "more of a home gadget than a regular iPad," Bloomberg writes, adding "Apple has also discussed the idea of building larger smart home displays."
Interestingly, Google's upcoming Pixel Tablet can "transform into a smart display for your home" that when docked "looks like a Nest Hub Max, responds to Google Assistant queries, and lets you control your smart home from the redesigned Home app," according to The Verge. Google hasn't yet specified a release date for the Pixel Tablet, but it is expected later this year.
"Apple also has discussed creating a home stand for its current iPads," Bloomberg says, noting that the company "has struggled in the home space and has ceded much of the market to its rivals," with current devices offering "limited" functionality and Apple's once preeminent Siri voice-control service now "lagging behind Amazon's Alexa and the Google Assistant."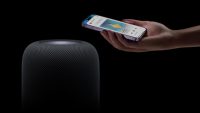 As for Apple's new $299 full-sized HomePod speaker, it measures 5.6 inches wide by 6.6 inches tall, building on the popularity of the HomePod mini, Apple senior VP of worldwide marketing Greg Joswiak says in a news release. It senses home temperature and supports the Matter smart-home standard, connecting to and controlling Matter-enabled accessories while serving "as an essential home hub, giving users access when away from home," per Apple.
Smart home communications are end-to-end encrypted and can't be read, even by Apple, which says "when Siri is used, the audio of the request is not stored by default" (though that statement sidesteps the data).
The new HomePod uses the S7 chip (used in last year's Apple Watch) and leverages software to deliver "a groundbreaking listening experience," per Apple.
Topics:
Alexa
,
Amazon
,
Apple
,
Audio
,
Display
,
Echo Show
,
Encryption
,
Google
,
Google Assistant
,
Greg Joswiak
,
HomePod
,
HomePod mini
,
iPad
,
Kickstand
,
Magnetic
,
Mark Gurman
,
Matter
,
Nest Hub
,
Nest Hub Max
,
Pixel Tablet
,
S7 Chip
,
Security
,
Siri
,
Smart Home
,
Smart Speaker
,
Thermostat
,
Wall Mount