Google still remains in firm control of the online search market, with roughly two-thirds of the market in its grasp. But as mobile devices grow in number, the way people are searching for information and services is changing. This puts the $22 billion online search industry at a crossroads, as it tries to figure out how mobile and online search can work together — and for a profit.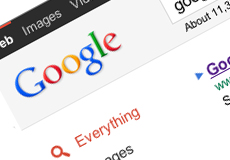 "No longer do consumers want to search the Web like the index of a book — finding links at which a particular keyword appears," reports The New York Times. "They expect new kinds of customized search, like that on topical sites such as Yelp, TripAdvisor or Amazon, which are chipping away at Google's hold. Google and its competitors are trying to develop the knowledge and comprehension to answer specific queries, not just point users in the right direction."
"What people want is, 'You ask a very simple question and you get a very simple answer,'" said Oren Etzioni, a professor at the University of Washington who has co-founded companies for shopping and flight search. "We don't want the 10 blue links on that small screen. We want to know the closest sushi place, make a reservation and be on our way," he added.
In a time of information overload on the Web, mobile users want simplicity. They want quick answers with limited required work. Thus, "on smartphones, people skip Google and go directly to apps, like Kayak or Weather Underground. Other apps send people information, like traffic or flight delays, before they even ask for it," according to the article.
This sentiment was repeated by Shar VanBoskirk, an analyst at Forrester, who said: "There is a lot of pressure on search engines to deliver more customized, more relevant results… users don't need links to Web pages. We need answers, solutions, whatever intel we were searching for."
Google and others are attempting to remain ahead of the curve. The search giant now shows answers in addition to links as results for online searches and took its "biggest step" last year when it introduced the Knowledge Graph, which uses semantic search to understand "the meanings of and connections among people, places and things," adds the article.
Topics:
Amazon
,
Answers
,
App
,
Apps
,
Google
,
Industry
,
Kayak
,
Knowledge Graph
,
Mobile
,
Mobile Search
,
Online Search
,
Search
,
Trend
,
Tripadvisor
,
Weather Underground
,
Yelp