A new trend in music among new generations is a return to the era of nostalgic vinyl LPs and high fidelity sound systems. One reason is fashion, but many are seeking a richer music listening experience. These music fans want high-end systems that include vinyl sounds, a more robust music experience, and elegantly designed sound systems. They are also expecting to spend several hundred to several thousands of dollars for their ideal sounds.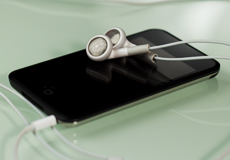 "The Internet and digital technology have upended the music industry over the last decade or so, but high-end audio has arguably suffered an even greater blow," reports The New York Times. "The industry's very raison d'être — the nitpicky pursuit of superb sound reproduction, no matter the cost or complexity — is irrelevant to many music listeners today."
MP3s are downloaded from iTunes or elsewhere online, and people play them on laptops or smartphones. Songs are shared as YouTube links by email. The music quality may be poor and over compressed, but it loses to convenience and mobility.
"In the '60s and '70s, if you opened up Esquire or Playboy and they showed a bachelor pad, there was a killer sound system in it. Now, there's an iPod dock," explains Ken Kessler, a veteran audio journalist.
A new generation of home audio enthusiasts is looking beyond digital music. There is a renewed interest in vinyl, and strong sales in high-end headphones suggest that music listeners want a different experience than what MP3s and cheap ear buds can offer.
One reason for the music renewal is fashion. Vinyl records and players can be found at Urban Outfitters, and Beats by Dre headphones are a popular fashion accessory for young music fans.
Many music listeners are walking away from their tens of thousands of digital songs, and turning to music streaming services such as Spotify and vinyl LP records. Audio equipment companies are also responding with modern day upgrades and design improvements. Renowned preamp and audio component maker, McIntosh is adding USB connections to its complete product line, and Theil Audio, a high-end speaker manufacturer is hiring industrial designers for the first time.
"The kids are not idiots," says Roy Hall, founder of Music Hall Audio, a turntable maker. "A nice little hi-fi system with a good turntable sounds amazing — way beyond an iPod."
Topics:
AMP
,
Apple
,
Audio
,
Audiophile
,
Beats by Dre
,
Digital Music
,
Entertainment
,
Hi-Fi
,
High Fidelity
,
Home
,
iPod
,
iTunes
,
LP
,
McIntosh
,
MP3
,
Music
,
Music Hall Audio
,
Pandora
,
Record
,
Speaker
,
Spotify
,
Stereo
,
Streaming
,
Theil Audio
,
Turntable
,
Urban Outfitters
,
Vinyl