The Coalition for App Fairness, debuted last month by Epic Games, Match Group, Spotify and others t0 combat what they claim are excessive commission payments to Apple, is experiencing a sharp increase in membership. Thirteen members founded the group, which has grown to 40 members with more than 400 requests to join. Smaller developers that are dependent on the Apple App Store for survival have, until now, been too intimidated to speak up. Microsoft voiced support for the Coalition and adopted its recommendations for its own store.
The Washington Post quotes Coalition spokeswoman Sarah Maxwell, who said, "the outpouring of interest we've received has exceeded our expectations … it's evident that too many developers have been unable to make their voices heard." In addition to Microsoft's support, Facebook "publicly criticized Apple for changes that will make it more difficult for companies to advertise in iPhone and iPad apps."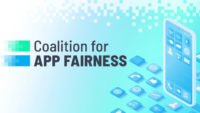 Spotify also "filed a formal complaint with European regulators in March 2019, accusing Apple of using anticompetitive measures to harm Spotify and give an advantage to Apple Music," and email provider Blix sued Apple "claiming the company infringed on its patents and took anticompetitive steps to harm them." Bluetooth tracker Tile also filed a complaint in Europe.
Until the founding of the Coalition, "companies that rely on mobile apps, games and other software tools for Apple devices once feared ending up on Apple's bad side, and it was rare to hear a critical word about the company spoken in public." Apple's own published policy notes that, "if your app is rejected, we have a Review Board that you can appeal to. If you run to the press and trash us, it never helps."
App developers are particularly concerned that they can only accept payments for digital goods via Apple's payment service, which charges a 30 percent commission. That big bite is painful for many app developers, such as Scroll, founded in 2016, that "allows people to opt out of ads and tracking software when they surf news sites for $5 a month." Scroll pays 70 percent of its revenue to news sites that are part of its program, but Apple's 30 percent cut means that Scroll makes no revenue. It is one of the companies that joined the Coalition for App Fairness.
Yoga app Down Dog co-founder Ben Simon said he joined the coalition "after years of grating interactions with Apple's App Store … [that included] contradictory messages from Apple's App Review team." A 30 percent cut, he added, is "unjustified, considering the level of service" since his "most upset customers are the ones who contact Apple about their subscription."
"We just lost faith a long time ago that Apple was going to treat us well," said Simon.
Apple and other Big Tech companies are also facing the scrutiny of the House Judiciary Committee and other government agencies, claiming that they are "using their power to quash competition and stifle innovation for their own financial gain." Its report specifically mentions Apple's App Store practices.