Nielsen and Twitter teamed up to study how consumers decide to go see a movie, and they found that Twitter played a major role in that decision. About 87 percent of surveyed moviegoers said that Twitter influenced their choice of movie and 47 percent said that they saw a movie based on recommendations from family or friends on Twitter. The survey also found that in general, 62 percent of moviegoers use the Internet or mobile apps to look up films before their theatrical release.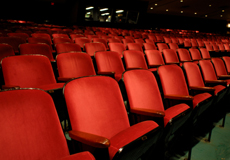 On the company's blog, Twitter had some advice for movie studios looking to create some buzz around their new upcoming movies. Based on survey results, the company advised studios to create a movie account at least six months prior to the release and create Twitter-exclusive content.
The survey showed that Twitter users particularly like special previews and trailers, tweets from the movie's cast, and behind-the-scenes videos and pictures. About 65 percent of Twitter users follow a film-related Twitter account for movies, movie theaters or actors.
Twitter generates movie buzz because more than 80 percent of users take action after seeing a tweet about a movie they were interested in. "That means that Twitter buzz, both positive and negative, about a film could have a significant impact on whether other fans check out the title," notes The Hollywood Reporter.
Some 44 percent of moviegoers watched the trailer and more than 40 percent tweeted or retweeted something about the movie.
"Twitter was a key ingredient to the success of 'X-Men: Days of Future Past,'" said Marc Weinstock, head of domestic theatrical marketing at 20th Century Fox. "We had an amazing film and created some highly shareable content. As the live platform, Twitter was the perfect place for us to spread the word."
"The Nielsen study was conducted through exit polls of U.S. moviegoers age 13 and over who had seen one of the four big summer films on opening weekend," reports Variety.
Topics:
20th Century Fox
,
Actors
,
Audiences
,
Behind-the-Scenes
,
Buzz
,
Cast
,
Decision
,
Film
,
Internet
,
Marc Weinstock
,
Marketing
,
Mobile Apps
,
Movie
,
Moviegoers
,
Nielsen
,
Pictures
,
Previews
,
Recommendations
,
Social Network
,
Survey
,
Theater
,
Theatrical Release
,
Trailers
,
Tweet
,
Twitter
,
Twitter Account
,
Videos
,
Viewers
,
X-Men: Days of Future Past