StubHub, a subsidiary of eBay, serves as a secure secondary market for live event ticket sellers and buyers. The company has become a reliable destination for ticket access to premiere live events such as concerts and professional sports. And now the company is looking to expand its offerings by including ticket listings for movie theaters, theme parks and museums. For the movie theaters especially, StubHub could help facilitate the sale of tickets that might not sell otherwise.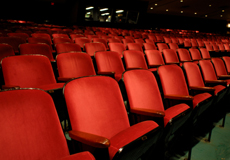 StubHub could potentially partner with film exhibition chains as it has previously done with theater companies such as Nederlander and Telecharge to ticket sales of shows like "Wicked" and "Book of Mormon."
"While exhibitors have never been keen on discounting tickets through other sellers, StubHub could prove helpful in filling screenings during off-peak hours like matinees or weeknights when business is slower," Variety reports.
Ultimately however, StubHub has the choice to sell tickets to movie screenings, with or without deals with exhibitors. "Because its platform is open to everyone and any form of ticket, movie tickets can be sold without StubHub requiring a deal with a chain," notes Variety. "And they may not care, considering that in order to sell on StubHub, the ticket was already purchased, meaning the exhibitor has already collected its money."
Last year, tickets for a 4DX screening of "Transformers: Age of Extinction" at the L.A. Live Regal Cinema, ended up appearing as an available listing on StubHub.
StubHub reportedly sells one ticket every second and collects a percentage of every ticket sold. Throughout the years, the company's implementation of barcodes on every ticket has been heavily praised by the likes of AEG, because of the peace of mind and reassurance that customers get in knowing their tickets can be scanned at point of entry to any venue.
Topics:
4DX
,
AEG
,
Barcodes
,
Book of Mormon
,
Cinema
,
Concerts
,
eBay
,
Event Ticketing
,
Exhibition
,
L.A. Live
,
Live Events
,
Movie Exhibitors
,
Movie Theaters
,
Movies
,
Museums
,
Nederlander
,
Regal Cinemas
,
Sports
,
StubHub
,
Telecharge
,
Theaters
,
Theme Parks
,
Ticket Sales
,
Transformers: Age of Extinction
,
Wicked