Square announced it will acquire Australia-based financial tech company Afterpay in an all-stock deal worth about $29 billion, with Square chief executive Jack Dorsey stating that the two companies "have a shared purpose." Afterpay appeals to a younger demographic that mistrusts traditional credit companies; its technology lets a consumer pay for goods in four interest-free installments and receive the goods immediately. Customers only pay a fee if they miss an automated payment, which also locks their account until the balance is repaid.
The Wall Street Journal reports that, "most of Afterpay's revenue comes from retail merchants, which pay a percentage of the value of each order placed by customers, plus a fixed fee." During COVID-19, U.S. consumers relied on buy-now-pay-later services, "but credit cards appear to be coming back in favor."
Square has been "looking for ways to tie its Cash App [digital payment service] and seller ecosystems more closely together … [and] the Afterpay deal is a big step in that direction." Square plans to "add Afterpay as a financing option through the smaller merchants it serves … [and] Afterpay customers will be able to make payments on their installment loans through Cash App."
Cash App's use has grown dramatically in the last year, "largely the result of a flood of pandemic stimulus payments" and in June "reached 40 million monthly transacting active customers." Its gross profit of $546 million in Q2 is a 94 percent increase year-over-year from 2020. Square chief financial officer Amrita Ahuja predicted that, "online payment volumes will hit $10 trillion by 2024, with buy-now-pay-later installments taking an increasing share."
Founded in 2014 by Nick Molnar and Anthony Eisen, Afterpay is "Australia's largest tech company by market capitalization." It said "the deal implies a value of around 126.21 Australian dollars, equivalent to $92.66, for each of its shares, representing a 31 percent premium to its closing price on Friday." Shareholders will receive "0.375 share of Square Class A common stock for each Afterpay share that they own … [and] Afterpay shareholders will own around 18.5 percent of the combined company when the deal completes."
Some analysts think that "Afterpay's growth will start to attract more scrutiny from regulators … [since it] skirts the definition of a loan under some U.S. laws." California "reached a settlement with Afterpay in April last year, however, over what it said were illegal practices, requiring the company to refund $900,000 to consumers." In June, the company introduced a loyalty program and "said it would launch an Afterpay-labeled bank account in October in partnership with Westpac Banking Corp., Australia's second-largest bank."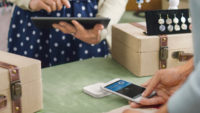 Yahoo Finance reports that BTIG managing director Mark Palmer said, "this deal makes a lot of sense for Square, especially insofar as it enabled the company to expand significantly, both in terms of product line and globally by using its stock as an acquisition currency."
Wedbush analyst Moshe Katri agreed, noting that, "in terms of the strategic rational, this is a transaction that significantly expands the number of active users on the consumer side of the business." Bank of America analysts dubbed the deal "a bold acquisition," adding "we believe the Street will react positively to the deal from a strategic perspective, in that Afterpay fits snugly into SQ's two-sided ecosystem of merchants and consumers."
Afterpay has 11+ million customers and works with 64,000 merchants.
Topics:
Afterpay
,
Amrita Ahuja
,
Anthony Eisen
,
Australia
,
Bank of America
,
BTIG
,
California
,
Cash App
,
COVID-19
,
Credit Cards
,
Finance
,
Jack Dorsey
,
Loans
,
Loyalty Programs
,
Mark Palmer
,
Moshe Katri
,
Nick Molnar
,
Regulators
,
Retail
,
Shareholders
,
Square
,
Stimulus Payments
,
Wedbush Securities
,
Westpac Banking Corp.