Soul Machines, which creates autonomously animated digital characters that use AI and natural language processing to interact with humans in real time, has completed a Series B1 financing round of $70 million led by SoftBank Vision Fund 2. The 6-year-old New Zealand-based firm has thus far raised $135 million to fund its effort to create AI-powered "digital people" for digital environments involving entertainment, the metaverse, customer service and education. Soul Machines says it plans to use the new investment to fund continued growth in enterprise markets and ongoing deep tech research for its Digital Brain project.
In its Series B1 announcement, the company says it's working on "digital entertainment for the metaverse with hyper-realistic digital twins of real life celebrities." Soul Machines co-founder and chief business officer Greg Cross says a primary objective is helping brands "introduce different ways of personalization and ways to deliver unique brand experiences to customers in a very transactional digital world."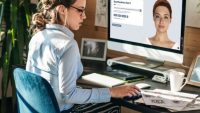 Last year, the company began creating a computer-generated double for Los Angeles Lakers player Carmelo Anthony, an exercise it had previously undertaken with rapper will.i.am for an episode of the YouTube Originals series "The Age of A.I.," reports TechCrunch. "Anthony is already a Nike ambassador, so in theory, Soul Machines could use his likeness to create an experience that's perhaps only available to VIP customers who own a set of NFTs to unlock that experience."
Anna Lo, investment director at SoftBank Investment Advisers, says in the funding announcement that "global brands are investing more in how AI can create an intimate, personalized experience with their customers at scale," pointing to a future in which digital people can "support companies across functions including customer service, training and entertainment."
The challenge is heightened by the fact that "the main interaction most companies have with their customers is via apps and websites," a situation that has been exacerbated by COVID-19, writes TechCrunch.
Soul Machines aspires to create "a digital workforce, one that is available at any time of the day, in any language, and mimics the human experience so well that humans have an emotional reaction, which ultimately leads to brand loyalty," TechCrunch says. The key is empathy, which Soul Machines feels it can program at three levels.
In terms of autonomy, it aspires to a Level 4: "'Goals-Based Animation,' which would involve the CTA system generating new animations dynamically to help it reach goals set by the teacher," TechCrunch writes.
Among the startup's projects thus far is Ruth, a virtual "cookie coach" that helps Nestlé Toll House customers with baking advice. In conjunction with the World Health Organization the firm created Florence, an AI-powered health worker dispensing digital advice. Viola is the proof-of-concept digital assistant on the company's website, answering questions and suggesting YouTube videos and interactive maps.
Soul Machines was co-founded by CEO Mark Sagar, who as special projects supervisor at Weta Digital developed technology for the digital characters in "Avatar," "King Kong" and "The Amazing Spider-Man 2," earning two Scientific and Technical Achievement Academy Awards. The company has more than 200 employees, and offices in San Francisco, Los Angeles, New York City, London, Tokyo, Melbourne and Auckland.
Topics:
Academy Awards
,
Anna Lo
,
Artificial Intelligence
,
Brands
,
Carmelo Anthony
,
COVID-19
,
Customer Service
,
Digital Assistants
,
Digital People
,
Greg Cross
,
Los Angeles Lakers
,
Mark Sagar
,
Metaverse
,
Nestlé
,
New Zealand
,
NFTs
,
Nike
,
NLP
,
SoftBank Vision Fund 2
,
Soul Machines
,
Weta Digital
,
WHO
,
will.i.am
,
YouTube Originals