At the Berlin trade show IFA this year, manufacturers showed smart speakers that incorporate voice assistants from Amazon and Google. Sony debuted its LF-S50G, one of the first third-party products, including Google Assistant and offering 360-degree sound and a digital clock, due out in December for $200. Another rival is the $250 Harman Kardon Allure, which offers Amazon's Alexa and features ambient lighting that keeps the music's beat. In addition, JBL's new LINK series features three wireless speakers with Google Assistant and Chromecast support.
TechCrunch opines that, "this is all great news for Amazon and Google," because "opening up APIs means getting their assistants on a lot more products without doing any of the heavy lifting" and also "gives them both another key leg up on Apple's bids to make Siri part of the connected home tissue."
Because Apple hasn't yet introduced its HomePod, "it will likely be a while before Apple opens that functionality in the same way " — if ever, since "Apple places a lot of value in having hardware and software developed in house." Although rival products are priced about $100 less than HomePod, Apple is unlikely to compete here, since "pricing never really was much of a concern for the company."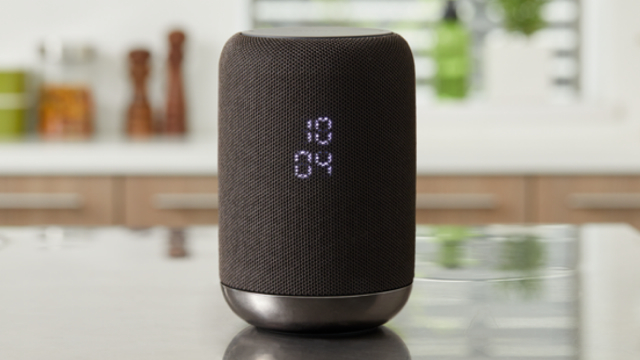 Wired reports that Sony's new LF-S50G (pictured above), which looks similar to HomePod, is offered in black and white, and will debut in October for $199. "A cylinder wrapped in mesh, above a metal base," it has a two-way speaker system, also similar to HomePod and, says Sony, will fill "the average room."
The LF-S50G "pairs to your music device via Bluetooth or NFC, or you can just connect it to Wi-Fi" and ask Google Assistant to play a song. In other words, the LF-S50G "can do anything the Google Home can."
According to Ars Technica, also reporting from IFA, we should expect to see smart speakers soon from companies including Anker, Mobvoi, Onkyo and Panasonic.
Topics:
360-Degree Audio
,
Alexa
,
Amazon
,
Anker
,
Apple
,
Berlin
,
Bluetooth
,
Chromecast
,
Echo
,
Germany
,
Google
,
Google Assistant
,
Google Home
,
Harman Kardon
,
HomePod
,
IFA
,
JBL
,
JBL LINK
,
LF-S50G
,
Mobvoi
,
Music
,
NFC
,
Onkyo
,
Panasonic
,
Siri
,
Smart Speaker
,
Sony
,
Voice Assistant
,
Wi-Fi