Popular band OK Go traveled to the Arctic Circle in Northern Sweden to capture the "sound" of the Aurora Borealis, better known as the Northern Lights. As part of a new collaboration with Sony, the band used a variety of Sony electronic devices to record the natural phenomenon for a music video and Sony advertising campaign. The video is scheduled to launch in May of this year.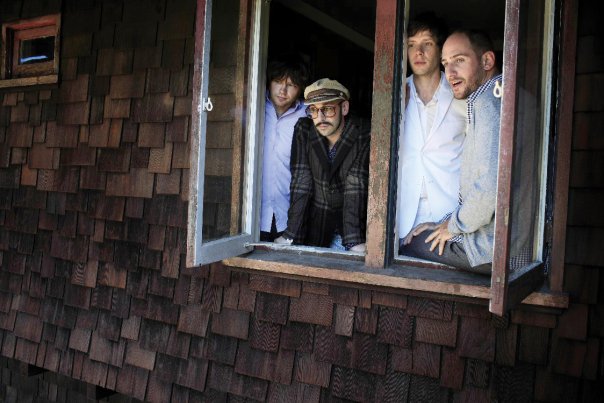 "We are not making a typical video," explained Damian Kulash, lead singer of the band. "We are really trying to set up instruments in strange sonic spaces and see what it sounds like."
"The Northern Lights are a light display caused by the collision of energetically charged particles with other atoms in the thermosphere layer of the Earth's atmosphere," explains Wired. "These particles originate from the solar winds, which put pressure on the Earth's magnetosphere. The Sun has been ramping up towards the peak of its 11-year Sunspot cycle, meaning higher-than-normal magnetic energy to feed the spectacular Northern Lights."
The group worked out of a small hut-like headquarters using a variety of instruments including battery powered synthesizers and the Swedish string instrument called a nyckelharpa. One of the main electronic devices used was a low frequency radio receiver, which picks up natural sounds between 200 and 10,000Hz. The device then coverts the radio waves into frequencies for the human ear.
The group planned to record every sound from their excursion, but decided to focus on the Northern Lights instead. "We are trying to make something that evokes the nostalgic, pensive, reflective thing that happens to people in pure silence," said Kulash. The group is still working on the vocals to complement the natural made noises, and plans to create a stop-animation type video from the pictures taken during the excursion.
"The way they create music is very pick-up-and-go; they are very creative and adapt to their environment to come up with music based on whatever inspires them," said Richard Dorman, marketing manager at Sony.
Topics:
Arctic
,
Audio
,
Aurora Borealis
,
Kulash
,
Music
,
Natural Sounds
,
Northern Lights
,
OK Go
,
Recording
,
Sony
,
Sound
,
Sweden
,
Video