SoftBank chief executive Masayoshi Son invested $164 million in startup Mapbox, which is used by Lyft drivers, Snap and Mastercard, and in the process revealed his plans for his nearly $100 billion Vision Fund. The Fund, which includes money from Saudi Arabia and others, is aimed at preparing for new paradigms in work, medicine and so on that will occur due to artificial intelligence. Son believes in Singularity, the idea that robots will change the work force and machines will become smarter than people.
The New York Times reports that Son confided these ideas to Mapbox chief executive Eric Gundersen. "For Masa, his vision is not just about predictions like the Singularity, which has gotten a lot of hype," said Gundersen. "He understands that we'll need a massive amount of data to get us to a future that's more dependent on machines and robotics."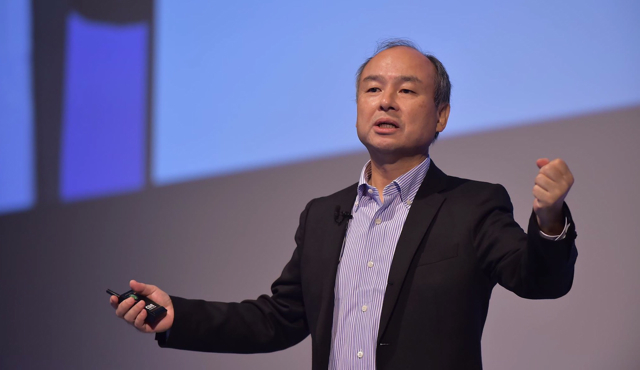 These revelations help make sense of Vision Fund's investment in "a seemingly random sample of more than two dozen companies," that includes "robotics software start-ups like Brain Corp and the indoor farming business Plenty, as well as more prominent companies like the business software maker Slack."
What these companies all have in common, says NYT, is "they are involved in collecting enormous amounts of data, which are crucial to creating the brains for the machines that, in the future, will do more of our jobs and creating tools that allow people to better coexist." SoftBank is now "involved in a plan to buy nearly a fifth of the existing stock of Uber," by accumulating Uber's stock "through a tender offer that could value the company at a discount to its current valuation of $68.5 billion," say sources.
If the deal is successfully concluded, "Son would own significant chunks of ride-hailing companies globally because SoftBank already owns stakes in Uber's rivals like Didi Chuxing in China and Ola in India," which represent "a network of companies that gather valuable logistics data and operate large, connected fleets that could work well with self-driving car technology."
"Masa is in a hurry," said Indian digital payments startup Paytm chief executive Vijay Sharma, whose company received a $1.4 billion investment from SoftBank. "He sees this once-in-a-lifetime opportunity where everything we touch can become a market, where we're at the opening up of a new industrial revolution."
Topics:
Artificial Intelligence
,
Autonomous Vehicles
,
Brain Corp
,
China
,
Data
,
Didi Chuxing
,
Eric Gundersen
,
India
,
Lyft
,
Machine Learning
,
Mapbox
,
Masayoshi Son
,
Mastercard
,
Medical
,
Ola
,
Paytm
,
Plenty
,
Ride Hailing
,
Robotics
,
Robots
,
Saudi Arabia
,
Singularity
,
Slack
,
Snap Inc.
,
SoftBank
,
Uber
,
Vijay Sharma
,
Vision Fund