Korea's largest mobile operator, SK Telecom rolled out its new LTE-Advanced broadband service last week. South Korean customers will now have access to 4G wireless network speeds up to 225Mbps (three times faster than other current mobile connections). This speed will allow users to download 800MB movies in less than half a minute. A new version of the Samsung Galaxy S5 will be the first to support LTE-A speeds, while LG and Pantech plan to launch compatible devices next month.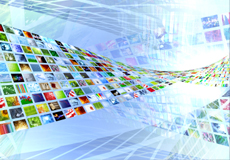 "The LTE-A broadband service utilizes carrier aggregation (CA) technology, which combines 10MHz and 20MHz bands to achieve significantly higher transfer speeds," reports CNET.
When this technology was demonstrated at the Mobile Asia Expo in Shanghai a few weeks ago, "a research team led by SK Telecom and Nokia showcased record speeds of 3.8Gbps," notes the article. "The previous record was achieved by SK Telecom at the Mobile World Congress in February at a much 'slower' 450Mbps."
New tri-band and quad-band CA technology is expected to launch by the end of this year, which should provide customers with speeds that exceed 300Mbps.
Topics:
4G
,
Broadband
,
CA
,
Carrier Aggregation
,
Communication
,
Data
,
Film
,
Galaxy S5
,
Korea
,
LG
,
LTE Advanced
,
LTE-A
,
Mobile
,
Mobile Asia Expo
,
Mobile World Congress
,
Movie
,
Network
,
Nokia
,
Operator
,
Pantech
,
Phone
,
Provider
,
Samsung
,
Shanghai
,
SK Telecom
,
Smartphone
,
South Korea
,
Speed
,
Tablet
,
Telco
,
Transfer Speed
,
Video
,
Wireless