Samsung used its Galaxy Unpacked Part 2 streaming event to share details of a new Galaxy Z Flip3 5G, Galaxy Buds2 and Galaxy Watch4. Samsung invited users to customize their mobile devices by making design choices on their Galaxy Z Flip3 using the online Bespoke Studio, which provides a 360-degree preview of different color and style combinations. Owners of the Galaxy Z Flip3 Bespoke Edition can sign-up to replace the colors on their device panel, freedom that "allows consumers to express their unique personalities through technology."
The Galaxy Z Flip3 Bespoke Edition has mix-and-match frame options of black or silver. Front and back colors are offered in pink, white, black, blue and yellow, with up to 49 combinations from which to choose.
"Samsung says that it researched current and future color trends and analyzed sociocultural trends to anticipate changes in customers' preferences and needs," reports Digital Trends. "Once the order is placed, devices are tailor-made and arrive in special edition packaging with a Bespoke Edition wallpaper and Cover Screen that matches the device's colors for a fully coordinated look."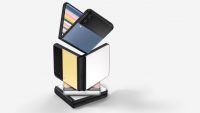 The Galaxy Watch4 is debuting new watch faces that allow everything from basic information at a glance to showcasing health stats. The new Info Brick watch face provides stats including heart rate, stress rate and daily activity. Or users can select a watch face that displays weather forecasts, a dashboard or live wallpapers riffing on the Galaxy Z Fold3 and Galaxy Z Flip3.
The Animals watch faces are also getting wilder, with animated GIFs and more gesture controls. "Steps Challenge watch face for keeping track of how you're doing in your step challenge," Digital Trends notes. "An animated bear will follow you for every step of your competition."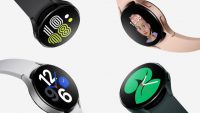 The smartwatch recognizes shaking your forearm up-and-down twice as a willingness to receive a call, while rotating your wrist twice rejects calls or dismisses alarms. The update is also programmed to add a new hand motion that can activate a selected app or feature. For instance, you can program a "knock-knock" "to open a pre-selected app, open the list of workouts, turn on a light or even create a new reminder," Digital Trends says.
Additionally, Samsung has partnered with lifestyle brand Maison Kitsuné on two special-edition wearables — a Galaxy Watch4 Maison Kitsuné Edition and Galaxy Buds2 Maison Kitsuné Edition — available in what the company described as "select markets." Both feature the new color Moonrock Beige.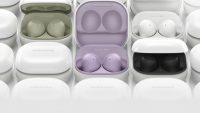 A special Maison Kitsuné phone theme is available by tagging an in-box NFC card that comes with the Maison Editions of the Galaxy Watch4 and Galaxy Buds2. The Galaxy Buds2 Maison Kitsuné Edition retails for $249.99 while the Galaxy Watch4 Maison Kitsuné Edition 40mm Bluetooth model lists for $399.99.
The Galaxy Z Flip3 Bespoke Edition and Galaxy Watch4 Bespoke Edition are available now,  for $1099.99, in Korea, the U.S., UK, Germany, France, Canada and Australia. Purchase includes 12 months of Samsung Care Plus protection. Customers with a trade-in phone can get a $600 credit towards a Galaxy Z Flip3 Bespoke Edition.