Rokoko made its library of professionally produced digital motion capture assets available for purchase in the Unity Asset Store. Its SmartSuit Pro captures an actor's movements, turning them into data that can be used to animate characters in games and movies. Unity Technologies, which makes the Unity game engine, offers pre-made assets to game developers who are looking to avoid the hefty price of professional motion capture. Assets in The Motion Library are available for as little as $1 and a $10 monthly subscription.
VentureBeat reports that Rokoko's Smartsuit Pro "is a sensor-based motion capture studio in one wireless body suit … [that] is mobile, accessible, and cost-effective compared to traditional motion capture systems, which typically cost more than $100,000."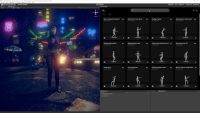 "This is a dream come true for Rokoko," said company chief executive Jakob Balslev. "Unity took the expensive and restrictive tools of game development and made them available to all the creative people who had so much to contribute but never had access before. That is exactly what we want to do with character animation."
The Smartsuit Pro data integrates with Unity, Unreal Engine 4 and MotionBuilder and "no technical expertise is required for setup, ensuring that a wide range of artists and animators can leverage this critical tool to help transform their creative visions into reality with ease," said Rokoko.
"The partnership between Rokoko and Unity is an excellent blend of two companies who are breaking the barriers for development — in this case, providing access to tools that have the potential to transform the way developers work with character animation," said Unity Technology Asset Store head Peter O'Reilly. "This has previously been a very costly, and time-consuming endeavor."
High-end studios and "mid-range indies" use the Smartsuit Pro, and Unity developers will have access to "the plugin, along with a collection of demo assets and 3D previews of thousands of premium assets made by Rokoko's featured publishers, which include top-tier professional motion capture studios" such as U.K.-based Audiomotion and Centroid. Later this year, Rokoko will introduce The Motion Library to developers on all other platforms on its website.