To boost its efforts in robotics, SoftBank Group is purchasing U.S.-based Boston Dynamics from Alphabet and, as part of the deal, is also buying Schaft, a Japanese bipedal robotics company. Although terms of the deal were not revealed, SoftBank shares rose as much as 7.7 percent in Tokyo trading. According to sources, Google, which had acquired Boston Dynamics in late 2013, decided to sell it when it concluded that the company wouldn't be likely to produce a shipping product in the next few years.
According to Bloomberg, researcher and manufacturer Boston Dynamics "made its name with a series of two- and four-legged robots that are able to stay upright even when pushed or traversing rocky terrain."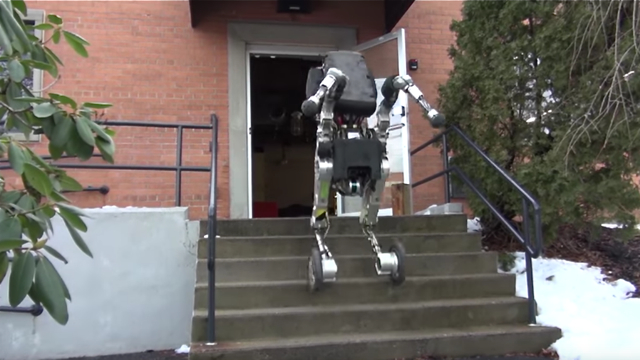 Recode reports that Boston Dynamics, led by chief executive Marc Raibert, "has made a robotic cheetah that can run 28 miles per hour, a robotic dog that it recently used to deliver packages to doorsteps in Boston, and most recently a massive legged and wheeled robot that can clear hurdles and walk down stairs."
Unknown is if Boston Dynamics will remain part of SoftBank, a telecommunications and tech investment company, "or become part of the Vision Fund, the $93 billion technology investment fund started by SoftBank's founder, Masayoshi Son." "The Vision Fund already has the right to acquire 25 percent of SoftBank's holdings" in ARM Holdings, OneWeb, online lender Social Finance and Nvidia.
Google bought numerous robotics companies in a short period, under the leadership of Andy Rubin, who left Google in 2014. All the robotics companies, except Boston Dynamics, were moved to Alphabet's X research lab last year. "One of the challenges they've had is that the robotics don't scale as well for mass production," said Loup Ventures analyst Gene Munster. "That's why they never fit with Google's model."
According to Recode, Boston Dynamics' humanoid Atlas robot was used in DARPA's robotics challenge in 2015. SoftBank began its investments in robotics in 2012 when it acquired a majority stake in Aldebaran, which makes "the humanoid robot Pepper … used in retail and customer service settings throughout Japan, and increasingly in the U.S."
In 2015, SoftBank also led a $20 million investment round in Fetch Robotics, manufacturer of warehouse logistics robots.
Topics:
Aldebaran
,
Alphabet
,
Andy Rubin
,
ARM Holdings
,
Atlas
,
Boston Dynamics
,
DARPA
,
Fetch Robotics
,
Gene Munster
,
Google
,
Japan
,
Loup Ventures
,
Marc Raibert
,
Masayoshi Son
,
Nvidia
,
OneWeb
,
Pepper
,
Research
,
Robotics
,
Schaft
,
Social Finance
,
SoftBank Group
,
Telecom
,
Tokyo
,
Vision Fund
,
X Research Lab