The organization that awards gold and platinum record certifications to top selling artists has updated the way it counts album sales to include streaming data. The Recording Industry Association of America will now count 1,500 audio or video song streams as ten track sales, which equals one album sale. An artist's album will achieve gold record status when it sells more than 500,000 copies and platinum record status when it sells more than 1,000,000 copies.
The RIAA changed its counting method to better reflect modern listening habits. Thousands of people are listening to music through streaming services such as Apple Music, Pandora, Spotify, and even YouTube.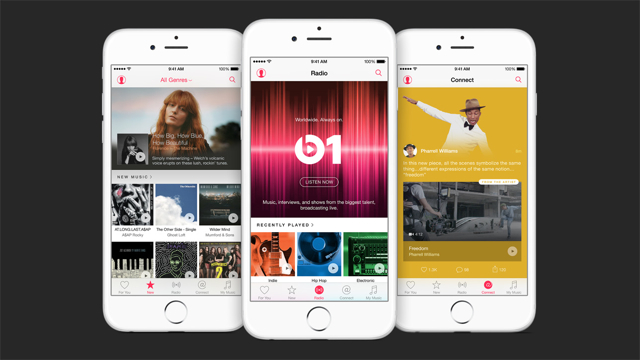 "We know that music listening — for both for albums and songs — is skyrocketing, yet that trend has not been reflected in our album certifications," said Cary Sherman, chairman and CEO of RIAA. "Modernizing our Album Award to include music streaming is the next logical step in the continued evolution of Gold and Platinum Awards, and doing so enables RIAA to fully reward the success of artists' albums today."
This new method of counting streaming music is fairly standard in the music industry. Billboard 200 and Nielsen Music track music sales in the same fashion, where 1,500 streams equals ten track sales. The Wall Street Journal reports that RIAA started incorporating streaming into the data that determines gold and platinum single sales in 2013.
The addition of streaming into the album sales calculation means that some previously released albums will be awarded new certifications. Alt-J's album "An Awesome Wave" and Elle King's album "Love Stuff" cracked the 500,000 mark and are now gold. Meanwhile, "To Pimp a Butterfly" by Kendrick Lamar and "Platinum" by Miranda Lambert have gone platinum. The Weeknd's "Beauty Behind the Madness" went double platinum.
The king of pop Michael Jackson outdid them all, even though his 1982 album "Thriller" came out more than twenty years before streaming music services did. "Thriller" is now 32x platinum.
Topics:
Album Sales
,
Alt-J
,
An Awesome Wave
,
Apple Music
,
Beauty Behind the Madness
,
Cary Sherman
,
Elle King
,
Gold Record
,
Kendrick Lamar
,
Love Stuff
,
Michael Jackson
,
Miranda Lambert
,
Music
,
Music Streaming
,
Nielsen Music
,
Pandora
,
Platinum
,
Platinum Record
,
Recording Industry Association of America
,
RIAA
,
Songs
,
Spotify
,
The Weeknd
,
Thriller
,
To Pimp a Butterfly
,
Track Sales
,
Tracks
,
YouTube