IDC announced this week that wearable devices have experienced eight consecutive quarters of solid growth. According to the new report released Wednesday, 11.4 million wearables shipped worldwide during the first quarter, up from 3.8 million shipped during Q1 last year. IDC credits lower prices and a greater variety of wearables, such as smartwatches and activity trackers, for the increase in global sales. Fitbit led the charge last quarter by shipping nearly 4 million devices, followed by Xiaomi, Garmin, Samsung and Jawbone.
"Bucking the post-holiday decline normally associated with the first quarter is a strong sign for the wearables market," said Ramon Llamas, research manager for IDC Wearables, in a press release. "It demonstrates growing end-user interest and the vendors' ability to deliver a diversity of devices and experiences. In addition, demand from emerging markets is on the rise and vendors are eager to meet these new opportunities."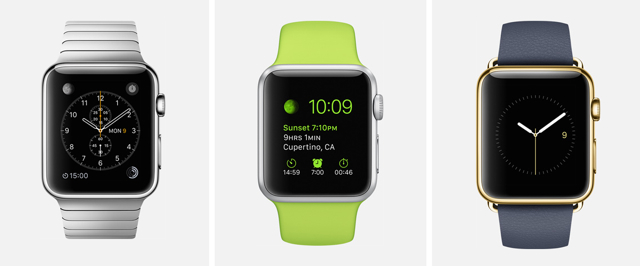 "What remains to be seen is how Apple's arrival will change the landscape," added Llamas. The Apple Watch (pictured above) was not included in IDC's first quarter report since it did not ship until April 24 (investment firm Global Equities Research has estimates that Apple has received 7 million orders so far).
"Apple's smartwatch starts at $349 and soars upward from there," reports CNET. "Other vendors will likely still rely on lower prices to lure in consumers. But buyers may now expect other smartwatches and even fitness trackers to stand out more to compete with the Apple Watch."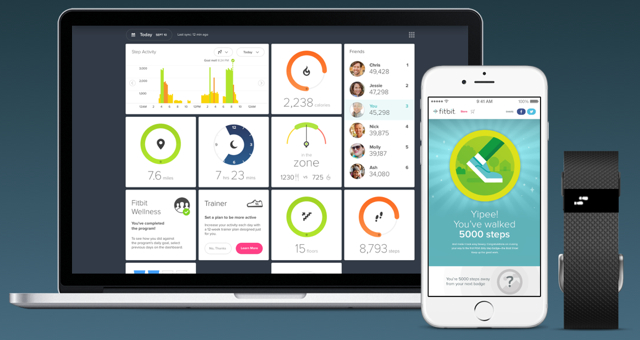 According to IDC, Fitbit sold 3.9 million fitness and activity trackers, including its Flex band and three newly released products — the Charge, Charge HR (pictured above), and the Surge.
Chinese vendor Xiaomi shipped 2.8 million Mi Band fitness monitors, Garmin shipped 700,000 health and fitness trackers equipped with GPS, Samsung shipped 600,000 Gear smartwatches, and Jawbone edged out Pebble and Sony for the fifth spot with 500,000 units of its UP24 device and new UP Move activity tracker.
Topics:
Activity Trackers
,
App
,
Apple
,
Apple Watch
,
Charge
,
Charge HR
,
Fitbit
,
Fitness
,
Fitness Tracker
,
Flex Band
,
Garmin
,
Gear
,
Global Equities Research
,
GPS
,
Health
,
IDC
,
Jawbone
,
Mi Band
,
Pebble
,
Ramon Llamas
,
Research
,
Samsung
,
Smartwatch
,
Sony
,
Surge
,
UP Move
,
UP24
,
Wearable
,
Xiaomi