In shipping news, retailers and tech companies continue to compete for consumers' attention by offering fast and affordable delivery options. While Amazon, Google and others continue their plans for drone delivery — and companies continue to experiment with one- and two-hour delivery in major cities — recent news has surfaced that Apple is teaming with Postmates to offer same-day delivery of Apple Store items, Walmart is developing a new three-day shipping service, and Amazon is introducing free shipping on thousands of smaller goods.
In December, ETCentric posted stories regarding Amazon's testing of new delivery options involving bike messengers and drones; Amazon taking on DeliveryHero, GrubHub and Seamless with its new Takeout & Delivery service; and Google Express competing with Amazon and eBay for same-day package deliveries in select cities during the holiday shopping season.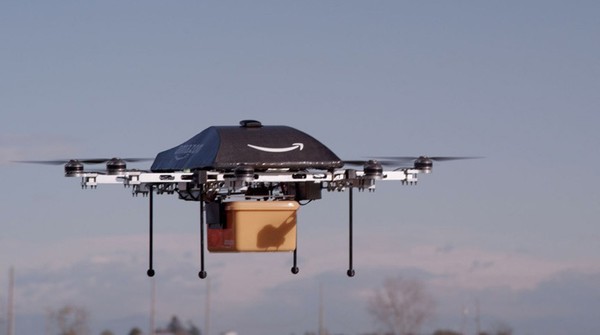 This spring, Amazon's Prime Now delivery service expanded from Manhattan and other New York neighborhoods to parts of Atlanta, Austin, Baltimore, Brooklyn, Dallas and Miami. The service offers free two-hour delivery for Prime members, and one-hour delivery in select zip codes for a $7.99 fee. A few weeks ago, Prime Now introduced one-hour delivery of groceries, prepared meals and baked goods from local businesses in Manhattan.
Last month, we reported that Uber has been quietly developing a new program that would offer online shoppers same-day delivery service via UberRUSH couriers and Uber drivers, while Audi unveiled its plans to test a new service in Germany that would allow consumers to order Amazon goods and have them delivered to the trunk of their cars through DHL's messenger service.
In recent weeks, additional shipping and delivery news has emerged from Apple, Walmart and Amazon.
"Apple has partnered with on-demand delivery startup Postmates to offer same-day delivery of certain items in the Apple Store," reports TechCrunch. As part of the pilot program, "Apple fans can get items delivered to them via Postmates such as a new lightening cable, Apple TV or other select items within a four-hour window on the Apple Store app in certain areas where Postmates operates."
According to a leaked internal website, Walmart is working on a forthcoming three-day shipping service called ShippingPass, which aims to take on Amazon Prime. Unlimited shipping is expected to run $50 per year when the service becomes available.
"The service will run alongside a number of other e-commerce experiments at Walmart, including those featuring online ordering with curbside pickup as well as home delivery options, both of which are available only in select U.S. markets," notes TechCrunch. "Similarly, the ShippingPass website explained to customers via its FAQ that the new service would only be available in limited geographies to start due to pilot testing."
Meanwhile, Amazon continues to push the envelope with free shipping on thousands of smaller items in its online store, without requiring a minimum order, and without requiring an Amazon Prime membership. Items that weigh 8 ounces or less, and cost about $10 or less, will ship in 4-8 business days from a new hub in Kentucky.
"By offering free shipping, the Seattle-based online retailer will be able to target a wider pool of customers and market its services, including Prime membership," Bloomberg reports. "The new offer gives online shoppers an opportunity to order inexpensive goods one at a time without worrying that shipping costs are more than the price of the item or feeling compelled to buy additional products to meet a free-shipping threshold."
In addition, Amazon continues its path toward fast, free delivery with its announcement that same-day delivery is free for its Prime members.
"Amazon said Prime members wanting same-day delivery will no longer pay the $5.99 per-order fee for goods purchased by noon, provided their order size is at least $35," explains The Wall Street Journal. "In return, the Seattle company pledges to get users their merchandise by 9 pm that night."
Topics:
Amazon
,
Amazon Prime
,
Apple
,
Apple Store
,
Atlanta
,
Audi
,
Austin
,
Baltimore
,
Bike Messengers
,
Dallas
,
Delivery
,
DeliveryHero
,
DHL
,
Drones
,
E-Commerce
,
eBay
,
Germany
,
Google
,
Google Express
,
Grubhub
,
Kentucky
,
Miami
,
New York
,
Online Shopping
,
Postmates
,
Prime Now
,
Retail
,
Seamless
,
Shipping
,
ShippingPass
,
Takeout & Delivery
,
Uber
,
UberRUSH
,
Walmart