Before Wednesday, social media startup Reddit, which has 174 million regular monthly users, did not offer a mobile app. Instead, the online message board worked with a variety of third-party, unofficial programs. However, in the wake of a large round of venture funding, Reddit announced that it has purchased the most popular of these third-party programs, Alien Blue. The app will now become the official Reddit app, available for download via Apple's App Store.
Reddit's monthly user total is up 60 million in just the last few months alone. Other social media startups of this caliber would have already created an in-house mobile app, but Reddit has traditionally worked with a very limited budget.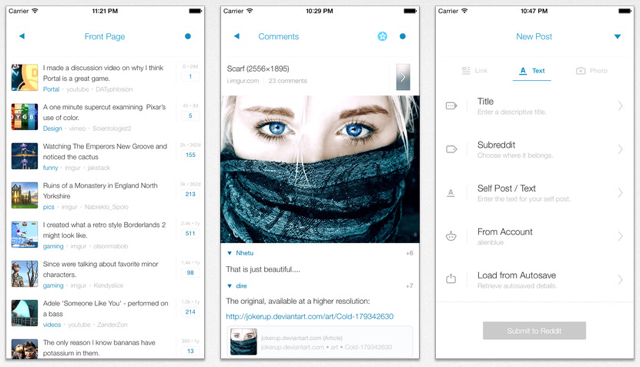 The terms of the agreement are currently undisclosed. However, Alien Blue's sole developer and owner, Jason Morrissey, will now work for Reddit officially.
"We want to be able to have new features from Reddit.com show up on mobile faster and better," said Ellen Pao, Reddit's head of partnerships and strategic development. "With Alien Blue and Jase, it was getting to a point where it was too much work for one person. He was helping us, we were helping him and the fit was really strong."
"Reddit's move comes at a crucial time in the broader Internet landscape, as consumers flock from relying on desktop computers to browsing websites and apps from their smartphones," reports The New York Times.
Topics:
Acquisition
,
Alien Blue
,
Android
,
App
,
Desktop PC
,
Ellen Pao
,
Internet
,
Investments
,
iOS
,
iTunes
,
Jason Morrissey
,
Mobile
,
Mobile App
,
Online Message Board
,
Purchase
,
Reddit
,
Smartphone
,
Social Media
,
Tablet
,
Third Party
,
Website