At CES 2017, Razer debuted Project Valerie, an ambitious laptop with three 17-inch 4K displays, two of which slide out from each side, with overlapping bezels at the interlocking edges. Despite the rather large footprint, the system is "surprisingly svelte," at about one-and-a-half inches thick and 12 pounds, with Razer's matte black styling and a sturdy unibody enclosure. Project Valerie is based on the Razer Blade Pro, with support of the very powerful Intel Core i7-7700HQ and Nvidia GTX 1080 processors.
Digital Trends compares Project Valerie with "images of lopsided, massive machines like the Acer Predator 21 X. We didn't think that would make it to production, but Acer announced its availability at CES 2017."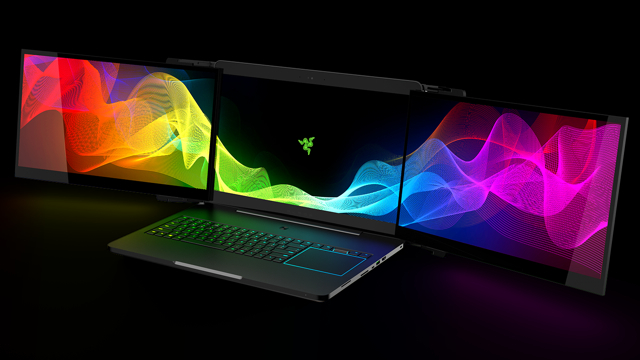 "Perhaps Valerie is more possible than we thought," notes DT, adding that Project Valerie offers "clarity and decent frame-rate." At the time of the review, quality settings and benchmarking data weren't available.
Project Valerie may be "overkill," it notes, but could make sense for users who mostly work in one place. "Three screens is a boon not just to productivity, but to potential presentation and organization power," says DT, suggesting that gaming is where the laptop shines: "Nvidia's 3D Surround tool lets you stretch a number of games across all three panels, for a 12K gaming experience that's unparalleled in the laptop world."
"There might be a market for this sort of over-the-top mobile powerhouse," it concludes.
Clearly someone else agreed with that conclusion, as Wired reports that two Project Valerie prototypes were stolen at CES, from Razer's press room, the afternoon of Sunday, January 8. The company posted a $25,000 reward; CTA and local law enforcement are involved in the case. The company chief executive Min-Liang Tan noted the theft may have been "industrial espionage."
Topics:
12K
,
3D Surround
,
4K
,
Acer
,
Acer Predator
,
Acer Predator 21 X
,
CES 2017
,
CTA
,
Displays
,
Gaming
,
Industrial Espionage
,
Intel
,
Intel Core i7
,
Laptop
,
Law Enforcement
,
Min-Liang Tan
,
Nvidia
,
Nvidia GTX
,
Nvidia GTX 1080
,
Processors
,
Project Valerie
,
Prototype
,
Razer
,
Razer Blade Pro
,
Theft
,
Videogames