It looks like Overstock.com is the latest to throw its hat into the streaming video ring. The Salt Lake City-based company is planning to introduce a streaming video service later this year that will compete in a crowded field that includes its e-commerce rival Amazon. During the National Association of Television Program Executives conference, Overstock Chief Exec Patrick Byrne said the online retailer would launch with about 30,000 movies and TV shows available for rent or purchase and eventually offer original programming.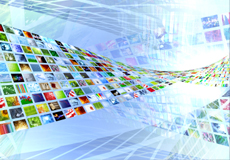 "We think this makes perfect sense for us to get into this business," Byrne said. "The industry is going to want to see a competitor to Amazon develop for across the board digital distribution."
Amazon has made headlines of late with original series "Transparent" nabbing two Golden Globe awards, filmmaker Woody Allen signing on to write and direct his first series, and the company's plans to produce and acquire feature films for theatrical and streaming distribution.
Success of Amazon's streaming service has helped expand membership for its Prime program, which runs $99 per year and includes two-day shipping, access to ebooks, photo storage, and unlimited streaming of its music, movies and TV shows.
"The new Overstock service would be tied to the company's $20-per-year Club O membership program, which offers 5 percent back on every order, free shipping and other discounts," reports The Wall Street Journal. "Byrne said there are about two million Club O members, which he expects to grow to 10 million by year end. By comparison, Amazon is estimated to have 40 million Prime members. Byrne said Overstock gets 25 million to 40 million unique monthly visitors."
Topics:
Amazon
,
Amazon Prime
,
Club O
,
Distribution
,
E-Commerce
,
Ebooks
,
Golden Globe Awards
,
Hulu
,
Internet
,
Members
,
Movies
,
Music
,
NATPE
,
Netflix
,
Online
,
Original Programming
,
Overstock
,
Patrick Byrne
,
Purchase
,
Rent
,
Retail
,
Salt Lake City
,
Shipping
,
Streaming
,
Subscription
,
Transparent
,
TV Shows
,
Video
,
Woody Allen