Activision Blizzard and Electronic Arts released positive financial results and showed optimism about the holiday shopping season. EA said sales of new video game consoles from Microsoft and Sony exceeded their goals, as well as the sales of games for those devices. EA also announced a repurchase plan for $750 million shares, and a lofty profit forecast for the rest of the year. Activision reported that presales for the newest version of "World of Warcraft" are the strongest in the game's history.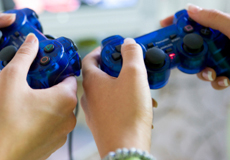 Both company's financial results for the quarter through March exceeded the expectations of analysts. According to The Wall Street Journal, "Electronic Arts shares jumped nearly 15 percent in after-hours trading to $32.18, while Activision rose 4.6 percent to $20.20."
EA's chief financial officer, Blake Jorgensen, said these results are the result of increased customer attention to its sports games, including its "FIFA" soccer franchise for example, and strong sales of games for Xbox One and the new PlayStation 4, which were released in November.
In addition, sales and game downloads via the Internet currently comprise 45 percent of the company's revenue, which is beneficial because they cost less than a sale in a retail store, and provides the company with valuable customer data.
Meanwhile, Activision's report included the release of plans to spend $500 million on "Destiny," a space-age shooting videogame created by the developers of the successful "Halo" franchise. The company expects the new game to be a billion dollar franchise.
Topics:
Activision
,
Analyst
,
Blizzard
,
Console
,
Cost
,
Customer
,
Data
,
Destiny
,
Developer
,
Download
,
EA
,
Electronic
,
FIFA
,
Financial
,
Forecast
,
Franchise
,
Game
,
Halo
,
Holiday
,
Internet
,
Jorgensen
,
Microsoft
,
Online
,
Optimism
,
PlayStation
,
Presales
,
Profit
,
PS4
,
Report
,
Retail
,
Revenue
,
Sales
,
shooting
,
Shopping
,
Soccer
,
Sony
,
Sports
,
Stock
,
Store
,
Strong
,
Subscriber
,
Video
,
World of Warcraft
,
Xbox