Microsoft is previewing a new cloud-based Windows App that lets users securely stream Windows remotely using Azure Virtual Desktop, Windows 365, Microsoft Dev Box, Remote Desktop Services or remote PCs. The new Windows App also works with iOS, iPadOS, macOS, Windows, and web browsers. "When using a web browser on a desktop or laptop, you can connect without having to download and install any software," Microsoft explains. Smartphones and tablets are also supported, but at the moment the preview does not offer dedicated Android support.
Windows App lets you access cloud PCs from anywhere," Tom's Hardware summarizes, while Tom's Guide writes that it "basically replaces and improves upon the Microsoft 365 app," adding that "this could be a big deal because it may soon be the most convenient way to access Windows when you're away from your PC."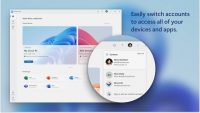 Windows App "is designed with a customizable home screen" that makes it easy to adjust for a particular workflow, Microsoft says in its announcement, explaining that "you can access Windows across multiple different services and remote PCs from a single place, and pin your favorites you access most." Those who use multiple accounts can  toggle between them with an account switching feature.
Other features offered by the remote-centric Windows App include:
Multiple monitor support.
Custom display resolutions.
Dynamic display resolutions and scaling.
Device redirection, such as webcams, audio, storage devices, and printers.
Microsoft Teams optimizations.
"While Microsoft says you can connect your iPad or iPhone to Remote Desktop Services on a personal Remote Desktop PC, it doesn't officially support those connections," according to PC Magazine.
But Tom's Guide describes the functional effect of the support that is provided, saying "you could effectively stream a copy of Windows to your iPad and use the front-mounted camera as your webcam" and "can also do neat things like connect your iPhone to an external display wirelessly via AirPlay, then use the Windows App to run a copy of Windows on the display while using your iPhone as a touchscreen to control the mouse pointer."
The Windows App is currently "limited to Microsoft's range of business accounts, but there are signs it will be available to consumers, too," writes The Verge, adding that "a dedicated 'Windows App' is unusual branding" that "could signal Microsoft's broader ambitions to move Windows fully to the cloud."
Microsoft has offered similar apps for remotely connecting PCs to Windows, including the Remote Desktop Connection app that is bundled into Windows.