The National Football League has had a longstanding anti-gambling policy, but its new deal with Switzerland-based Sportradar suggests the league may be changing its tune. According to terms of the deal, Sportradar distributes live data from professional football games, which include everything from scores to a running back's acceleration rate. Sportradar is already well known in the sports gambling business, and it currently sells its data to fantasy sports sites.
The NFL is fully aware of Sportradar's business with sports gambling companies, according to The New York Times. Some of these gambling companies are in some legal trouble of their own. One of Sportradar's clients is BetCRIS, which has been named in at least five major indictments in the U.S. In Britain, courts decided that Sportradar itself was conducting illicit business by selling sports data that it was improperly copying from a competitor.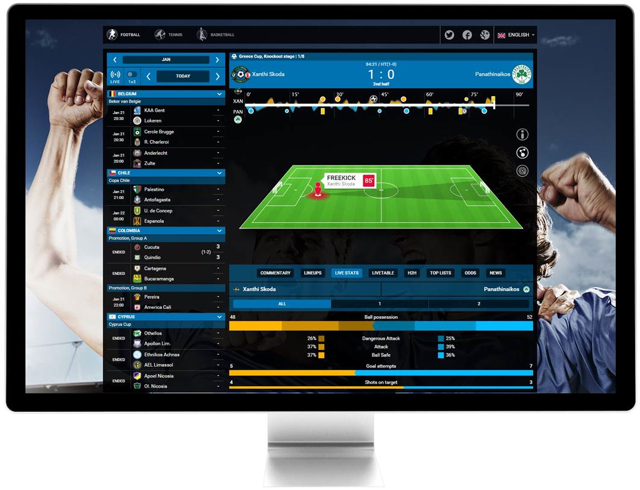 Gary Walrath is the former chief executive at Stats, the company that had previously held the data contract with the NFL. He says Stats brought their concerns about Sportradar to the NFL's attention. "The league is very familiar with what's going on, in contrast to what they say publicly," he said.
Walrath believes that Sportradar's deal with the NFL was only the first step in establishing themselves in the U.S. Sportradar also scored a deal with the National Hockey League this year.
Online sports betting is almost entirely illegal in the U.S., but the American Gaming Association estimates that the market for professional and college football betting will reach nearly $100 billion this year. Despite the NFL's public opposition, almost every team has a partnership with fantasy sports sites and the league partners with a company that has an online gambling license in Britain.
The deal with Sportradar may indicate that the NFL is warming up to the idea of expanding sports betting in the U.S.
Topics:
American Gaming Association
,
BetCRIS
,
Fantasy Football
,
Fantasy Sports
,
Gambling
,
Gary Walrath
,
Live Data
,
National Football League
,
National Hockey League
,
NFL
,
NHL
,
Online Gambling
,
Online Sports Betting
,
Professional Football
,
Professional Sports
,
Sportradar
,
Sports Betting
,
Stats
,
Switzerland