One week ahead of its March 25th special event expected to feature its media and entertainment bundle, Apple has introduced a new iPad Air and refreshed iPad mini. The latter hasn't seen any changes since the 2015 launch of the iPad mini 4. Both iPads, available in stores next month, feature new processors and updated displays as well as support for Apple's $99 Pencil, a stylus. Although the above features are brand new, both the names and construction of the devices are retro, including a Lightning port and Home button. The iPad Air features a 10.5-inch Retina screen, while the iPad mini has a 7.9-inch Retina display.
Wired reports that, although the display resolution of the updated iPad mini is the same as the older version, it now offers Apple's True Tone color shifting technology, supports faster Wi-Fi and gigabit LTE, and runs on Apple's A12 Bionic chip "which has its own neural engine for machine learning-powered tasks, though this isn't quite as amped up as the A12X chip found in Apple's more expensive hardware."
The iPad Air 3 isn't the thinnest iPad, but it does weigh only a pound, meaning it's lighter than the iPad Pro. It has many of the same feature updates as the mini, and both also have "eight-megapixel rear cameras, seven-megapixel front-facing cameras, and capture HD video."
The iPad Air 3 (below) is priced at $499 for 64 gigabytes of internal storage; the iPad mini 5 starts at $399 for the same amount of storage. The least expensive iPad out there now is the 9.7-inch iPad, which has a less powerful processor and less sophisticated display technology, but starts at $329. The form factor of the iPad mini appeals to "a wide range of people, from game-obsessed kids, to people looking for something Kindle-sized for media consumption, to frequent flyers, to doctors and other professionals who want something (sort of) pocketable when they're out in the field."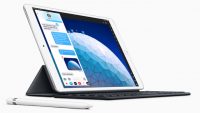 Bloomberg points out that Apple's unveiling of the new iPads comes "a week before the company rolls out a media and entertainment bundle designed to compete with Netflix." It notes that the iPad Air also "supports the company's Smart Keyboard," and that both devices "come in configurations that connect to either just Wi-Fi or cellular networks as well," with the cellular iPad mini priced at $529, and the cellular iPad Air at $629. In addition to 64GB, both iPads can also be purchased with 256GB storage capacity.
On June 3, Apple will showcase the "next major iPhone, iPad, Mac, Apple Watch, and Apple TV software updates." Bloomberg notes that, "Apple's iPad strategy in recent years had been splitting the category into two lines: lower-end models geared toward education and high-end models for business users," but this year it is "pushing its entry-level iPads toward the higher-end of the market."
IDC reports that iPad still dominates the tablet category, with a 27 percent lead in Q3; "however, that represented about a 7 percent year over year decline in sales for the quarter."
Topics:
A12 BIonic Chip
,
A12X
,
Apple Pencil
,
Apple TV
,
Apple Watch
,
Gigabit LTE
,
HD Video
,
Home Button
,
IDC
,
iPad
,
iPad Air
,
iPad Air 3
,
iPad mini
,
iPad mini 4
,
iPad mini 5
,
iPad Pro
,
iPhone
,
Lightning Ports
,
Mac
,
Machine Learning
,
Mobile
,
Netflix
,
Smart Keyboard
,
Tablets
,
True Tone
,
Video
,
Wi-Fi