One year after its acquisition of Movidius, Intel is introducing a new chip called the Myriad X, which TechCrunch describes as "a 'Pro' version of the Myriad 2, bringing a major redesign to the computer vision-minded chip, while also flaunting some new sophisticated deep-learning capabilities by way of its new 'Neural Compute Engine.'" While a dedicated computer vision chip has a wide range of potential applications, Intel is looking to use the Myriad X in drones, robots, smart cameras and VR and AR headsets.
According to the Intel release, Myriad X is the "world's first SOC shipping with a dedicated Neural Compute Engine for accelerating deep learning inferences," and is capable of 4 trillion operations per second.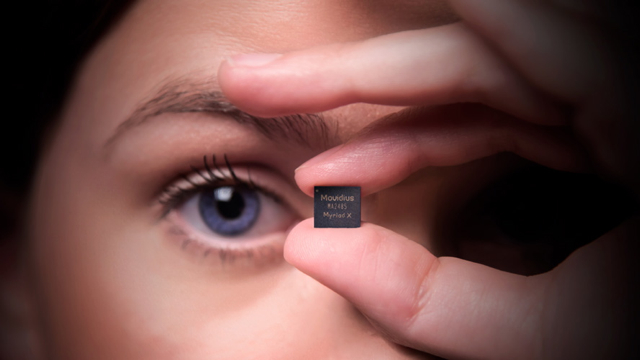 The Myriad X combines "imaging, visual processing and deep learning inference in real time" with programmable 128-bit VLIW vector processors, 16 configurable MIPI lanes ("connect up to 8 HD resolution RGB cameras directly to Myriad X … to support up to 700 million pixels per second of image signal processing"), more than 20 enhanced vision accelerators, and 2.5MB of homogenous on-chip memory.
Myriad X is the "first vision processing unit (VPU) to ship with a dedicated Neural Compute Engine to deliver artificial intelligence capabilities to the edge in an incredibly low-power, high-performance package," explains Remi El-Ouazzane, VP and GM of Movidius, Intel New Technology Group, via a blog post. "With this faster, more pervasive intelligence embedded directly into devices, the potential to make our world safer, more productive and more personal is limitless."