Intel is shaking up the business model for computer chips, debuting Intel On Demand, a software-defined silicon (SDSi) service designed to get customers to pay to enable features built into future Xeon server processors. The move signals a major change in how computer chips are marketed and could increase flexibility in how organizations configure their infrastructure. While Intel hasn't indicated whether SDSi will be mandatory for users buying next-gen Xeons, the concept has created some concern among IT professionals, many of whom view it as charging extra for features that are already hardwired into the silicon.
The Register writes of "good reason to believe Intel On Demand will be introduced with the 4th-Gen Xeon Scalable CPUs, code-named Sapphire Rapids," which is expected to launch early next year.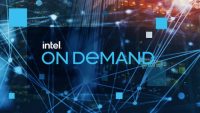 The Intel On Demand web page outlines two ways SDSi will be available: a one-time license model to activate select CPU accelerators and security features and metered consumption to scale performance.
"The new pay-as-you-go program will allow Intel to reduce the number of SKUs it ships while still capitalizing on the technologies it has to offer," reports Tom's Hardware, noting "its clients will be able to upgrade their machines without replacing actual hardware or offering additional services to their clients."
Intel On Demand features offered on paid activation include:
Intel Software Guard Extensions — Security upgrade that partitions applications and protects data while it's actively in use.
Intel Quick Assist Technology — Accelerator that lets users compress and encrypt data in any state, offloading compute-intensive workloads to free up capacity.
Intel Dynamic Load Balancer — Load balancing system geared toward telecom application.
Intel In-Memory Analytics Accelerator — Enhances big data applications by speeding compression and decompression.
Intel Data Streaming Accelerator — Addresses bottlenecks in data between the CPU cores, caches and memory.
"The latter three features will debut in the upcoming Sapphire Rapids chips," per The Register. The SDSi consumption model lets customers use Intel On Demand via as-a-service offerings including Hewlett Packard Enterprise's GreenLake platform.
Vendors and service providers supporting Intel's SDSi's initiative include Lenovo, "which will use Intel On Demand for its TruScale IT-as-a-service portfolio," according to The Register. Other firms backing the SDSi play include H3C, Inspur, phoenixNAP, Supermicro and Variscale. Intel's server division, the Datacenter Solutions Group, is also supporting SDSi.
"It's not a surprise to see Intel aligned with server vendors who are pushing as-a-service consumption models, which purport to provide organizations with greater flexibility in how their infrastructure is configured and give them a way to spread out equipment costs, rather than paying for all the kit upfront," The Register says.
Related:
How AMD Became a Chip Giant and Leapfrogged Intel After Years of Playing Catch-Up, CNBC, 11/22/22
Topics:
AMD
,
Big Data
,
Chip
,
Computer
,
Computer Chip
,
GreenLake
,
H3C
,
Hardware
,
HPE
,
Inspur
,
Intel
,
Intel On Demand
,
IT
,
Lenovo
,
Licensing
,
phoenixNAP
,
Processor
,
Sapphire Rapids
,
SDSi
,
Security
,
Server
,
Silicon
,
Software
,
Software-Defined Silicon
,
Supermicro
,
Telecom
,
TruScale
,
Variscale
,
Xeon