Netflix has started a quiet effort to address problems with smart TVs. The company is in talks with tech companies and consumer electronics manufacturers in order to find improvements to user interfaces, remote controls and other smart TV components. The idea of Internet content combined with TVs began in the mid 1990s, but some believe progress has been slow. New apps, services and compelling content are needed to engage viewers to purchase and use smart TVs.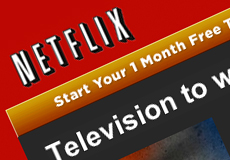 Smart TVs are well represented among most TV manufacturers, with most TVs having installed apps, and digital media receivers such as Apple TV and Roku that can turn almost any television into a smart TV. Despite all the apps and devices, navigation on a smart TV is typically difficult, menus are unclear and not user friendly, searching is time-consuming with on-screen keyboards, and many apps are unappealing.
Smart TV sales are average, but this is largely due to most TVs having apps as a standard. Last year, one fourth of all U.S. households with broadband Internet owned a TV with apps, and only 69 percent of those TVs were connected to the Internet, according to a Diffusion Group report, Defining the In-Home CE and Network Ecosystem 2013.
In addition, less than half of smart TV owners are using the built-in apps, preferring to use a computer connected to the TV, or other dedicated device, according to a survey by Broadband TV News.
Most smart TVs or other digital media receivers are underutilized. Many viewers typically use only one or two services on their TV or device, according to GigaOM. In addition, many manufacturers underpower their smart TVs as they are unwilling to install faster processors due to thin profit margins for their devices.
Netflix has found that it can optimize the devices that run the app to adjust for processing power, but TV makers must change their approach to TV connectivity, according to Scott Mirer, Netflix's partner devices director. "TVs were really optimized for linear TV… But the TVs themselves are not that different," argues Mirer. "They are really still old-style linear TVs with some network feature bolted on."
Netflix has begun attempts to push manufacturers to redesign their TVs with improved on-screen navigation, sleep modes to return to where one left off, and making app use and discovery easier. The company has also advocated for tablet and other device control through low-powered wireless connections and simplified remote controls.
Another reason that smart TVs are finding difficult times is due to users not knowing what to do with them other than a few basic apps. "We need to have four, five, six other experiences that are as compelling as Netflix to see that adoption really increase," says John Gilles, director of new media at the interactive design agency Code and Theory.
New technologies may be coming in order to give viewers reasons to use and buy smart TVs. Sports and competitive reality programming can push out more content for smart TVs, which Microsoft is doing with its upcoming Xbox One.
The three-part series:
Making TVs Smart: Why Most Smart TVs Still Feel Pretty Dumb, GigaOM, 7/31/13
Making TVs Smart: Why TV App Developers Struggle to Succeed in the Living Room, GigaOM, 8/1/13
Making TVs Smart: Why Google and Netflix Want to Reinvent the Remote Control, GigaOM, 8/2/13
Topics:
App
,
Apple
,
Apple TV
,
Apps
,
Broadband
,
Connected
,
Diffusion Group
,
Discovery
,
Interface
,
Internet
,
LG
,
Manufacturer
,
Microsoft
,
Navigation
,
Netflix
,
On-Screen
,
Reality
,
Receiver
,
Remote
,
Remote Control
,
Roku
,
Samsung
,
Smart TV
,
Sports
,
Stream
,
Streaming
,
Television
,
Toshiba
,
TV
,
UI
,
Video
,
Vizio
,
VOD
,
Xbox One