The National Geographic Society and 21st Century Fox have formed a for-profit venture, National Geographic Partners, which includes the National Geographic Channels cable TV group and magazine, other print publications, studios, digital media, maps, children's media, travel, licensing and e-commerce. Fox's $725 million purchase price bumps up the National Geographic Society's endowment to $1 billion, enabling the non-profit organization to double its investment in science, research and education.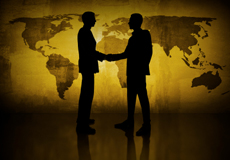 Although Fox will own 73 percent of the new company and National Geographic Society will retain only 27 percent, both companies will have equal representation on the board and share control, says The New York Times. 21st Century Fox chief executive James Murdoch says the move is "about creating a new company with the National Geographic brand at its heart."
National Geographic Society chief executive Gary Knell will be the first chair of the new company's board, and 20-year National Geographic Society veteran Declan Moore will become its chief executive. Both Murdoch and Knell note that the new venture "builds upon an 18-year partnership between the two groups for National Geographic Channels," a network of for-profit cable TV channels distributed to more than 500 million homes in 171 countries.
Some critics were concerned about the National Geographic Society's ongoing science-centric purpose, given that 21st Century Fox executive chair Rupert Murdoch has declared himself a "climate change skeptic." Knell responded that, over the 18 years of the companies' partnership, Fox had not wielded "any sort of political or editorial interference."
"I don't think that they would be investing in this brand if it weren't to keep the quality of what National Geographic stands for," said Knell.
"It's a creative business we are in, and we are in creative alignment," added James Murdoch.
Topics:
21st Century Fox
,
Cable TV
,
Climate Change
,
Declan Moore
,
Digital Media
,
E-Commerce
,
Education
,
For-Profit
,
FOX
,
Gary Knell
,
James Murdoch
,
Licensing
,
Nat Geo
,
National Geographic
,
National Geographic Channels
,
National Geographic Magazine
,
National Geographic Partners
,
National Geographic Society
,
Non-Profit
,
Print Media
,
Research
,
Rupert Murdoch
,
Science
,
Travel