After a crash and flying debris injured at least 28 fans at a Daytona NASCAR race over the weekend, NASCAR's video copyright policy came into question. NASCAR claims to own any "images, sounds and data" from NASCAR events. Fans began posting videos of the crash to YouTube, but NASCAR, claiming to own the videos, had the videos removed. But later in the day YouTube reinstated some videos after ruling NASCAR did not have the right to remove the videos.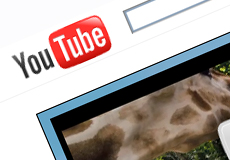 Typically after videos are removed for copyright-related issues uploaders must file a counter-notification. YouTube then investigates the claim, which takes at least 10 days to resolve. In this case, YouTube did not wait for counter-notifications and made the decision to put the videos back online.
YouTube explained its decision, telling Erik Wemple of The Washington Post, "Our partners and users do not have the right to take down videos from YouTube unless they contain content which is copyright infringing, which is why we have reinstated the videos."
Wemple continues to explain that YouTube can remove videos "after it takes a look and decides for itself that the material doesn't infringe copyright, or when it feels that there has been abuse of its copyright process."
"It will be interesting to see what, if any, impact this may have on other events," notes Deadspin. "Most teams and leagues have similarly broad language regarding copyright claims for action the ticketholder may witness — the Yankees for instance refer to this as 'game information' and claim all the rights NASCAR does and specifically prohibit you from transmitting information while simultaneously ensuring the ability to use your likeness in its own transmissions."
"Teams, leagues and entertainment providers go to great lengths to protect their brand reputation (profitability)… It makes you wonder what YouTube will do the next time a fan captures a spontaneous break in the typical action," concludes Deadspin.