Crowdsourced music videos of live performances are becoming more and more popular as concert-goers increasingly record shows with their smartphones or cameras. One Neil Young fan named Tom Adams went so far as to piece together multiple recordings of the same performance captured from different angles by other fans in attendance. On top of the video, he added a single audio recording of the concert to create one cohesive video.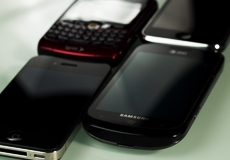 According to The Wall Street Journal, crowdsourced videos have been openly embraced and encouraged by bands like Radiohead and Nine Inch Nails. The Beastie Boys even gave cameras to fans at shows and eventually released the fan-recorded concert in theaters.
Neil Young's manager Elliot Roberts, however, doesn't approve of the kind of practice Tom Adams was engaged in. "We find this sort of practice to be incredibly rude toward both the audience and the artist," he said.
Adams, however, insisted to WSJ that he's not in it for the money and has declined offers from other fans to purchase the video. At the beginning of the video, Adams also includes a note that urges fans to purchase the artist's original work.
"The main reason Mr. Adams sought out other people's footage was that there were holes in his own," WSJ reports. Adams also says that sharing videos with fans who couldn't attend the concert in person "takes him back to his pre-Internet days of trading cassette tapes of the singer's concerts by mail with like-minded fans," according to the article.
Related Story:
Prince Targets Facebook Users in $22M Live Concert Piracy Lawsuit, TorrentFreak, 1/27/14
Topics:
Adams
,
Artist
,
Audio
,
Band
,
Beastie Boys
,
Bootleg
,
Camera
,
Concert
,
Copyright
,
Crowdsource
,
Distribute
,
Distribution
,
Facebook
,
Group
,
Illegal
,
Internet
,
Law
,
Lawsuit
,
Legal
,
Live
,
Mobile
,
Music
,
Musician
,
Neil Young
,
Network
,
Nine Inch Nails
,
Performance
,
Phone
,
Piracy
,
Prince
,
Radiohead
,
Record
,
Recording
,
Roberts
,
Share
,
Sharing
,
Smartphone
,
Social
,
Social Media
,
Song
,
TorrentFreak
,
Video
,
Wall Street Journal