Microsoft will begin its Windows 11 rollout October 5, marking the Seattle-based software giant's first major operating system release in six years. In addition to AI-powered widgets, Windows 11 upgrades include cloud-based synchronization across multiple devices that allows easy access to recently viewed files, an improved desktop that uses Snap Layouts and Snap Groups to maximize multitasking and taskbar integration of chat in Microsoft Teams, Windows' in-app videoconferencing, and enhanced sound and design.
The phased release will begin with Microsoft offering free Windows 11 upgrades to eligible users. As with past updates, Microsoft will utilize on-device data (among other factors) to determine which devices will initially receive the upgrade, Windows marketing general manager Aaron Woodman wrote in an August 31 blog post.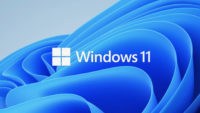 Woodman promises Windows 11 will be "the best Windows ever for gaming," optimizing hardware using DirectX 12 Ultimate, DirectStorage and Auto HDR for superior graphics, high speed, and an out-of-the-box selection of more than 100 PC games with Xbox Game Pass and Game Pass Ultimate subscriptions, which continue to be sold separately.
Microsoft will support Windows 10 through October 2025, according to The Verge. The company is suggesting "people stick [Win10] with it if their PCs can't run Windows 11 and they don't want to buy a new PC," CNBC reports.
On Windows 10 PCs that meet the Windows 11 hardware requirements users will be notified of upgrade availability by Windows Update (or manually check by clicking "Settings > System > Windows Update"). Dell's XPS 13, the HP Spectre x360 and Lenovo Yoga Slim 7i Pro, as well as Microsoft's own Surface Pro 7 are among the upgradeable Win10 laptops.
CNBC also issued a cautionary proviso, noting "no guarantee everyone will want to upgrade to the new OS given its predecessor's massive popularity." Windows 10, released in 2015, marked the company's most enduring OS to date and "the world's most popular PC operating system" with 1.3 billion monthly active devices.
Microsoft introduced Windows to the market in 1985 and it remains core. In its fiscal fourth quarter, Windows delivered $6.6 billion in revenue, representing 14 percent of the software and hardware company's total sales. Microsoft's Azure cloud service has gained traction, shoring up the evergreen Office suite of productivity tools.
But Microsoft is not without competition, fending off Alphabet's inexpensive Chromebooks, which run on Google's Linux-based Chrome OS and can run Android apps. Win11-powered Android apps will be available in Amazon's Appstore.
Microsoft will support Win11 on multiple processors, dating back to Intel chips from 2016. Devices that meet Windows 11's minimum operating requirements are expected to receive the upgrade by mid-2022, per Woodman.
The Verge reports you can install Windows 11 on any hardware using an ISO method, if: the PC has a 64-bit 1GHz processor with two or more cores, 4GB of RAM, 64GB of storage, and a TPM 1.2 chip. Devices that use workarounds will be classified unsupported, which means they may not have reliable access to Windows Update and security patches.
Topics:
Aaron Woodman
,
Alphabet
,
Amazon Appstore
,
Android
,
Artificial Intelligence
,
Azure
,
Chrome
,
Cloud
,
Dell
,
Dell XPS 13
,
DirectX 12 Ultimate
,
Gaming
,
Google
,
HP Spectre x360
,
Intel
,
Lenovo
,
Linux
,
Microsoft
,
Microsoft Office
,
Microsoft Teams
,
Surface Pro 7
,
Windows 10
,
Windows 11
,
Windows Teams
,
Xbox Game Pass
,
Yoga Slim 7i Pro