During its Surface and AI event in New York City on Thursday, Microsoft introduced a pair of new Surface laptops and an array of generative AI upgrades to Bing Chat, Windows Copilot and more. Taking center stage in hardware was the company's more powerful Surface Laptop Studio 2 and the ultra-portable Surface Laptop Go 3. Also unveiled was the Surface Go 4 for Business, the latest miniature version of its Surface Pro tablet, and the company's large touchscreen Surface Hub, designed for office use. Beginning this month, Microsoft rolls out Copilot — "your everyday AI companion" — in a free Windows 11 update, followed by Bing, Edge, and Microsoft 365 this fall.
"It's hard to imagine it was just 10 months ago that ChatGPT came out," setting off "something in our industry and beyond," said Microsoft Chairman and CEO Satya Nadella as he took the stage for his presentation.
Reflecting that change, Microsoft is merging Copilot, the AI assistant powered by OpenAI's GPT-4, as part of a "unified experience" that will enable artificial intelligence "seamlessly" across Microsoft's various apps and services.
"Copilot will uniquely incorporate the context and intelligence of the web, your work data and what you are doing in the moment on your PC to provide better assistance — with your privacy and security at the forefront," Microsoft says in a Copilot announcement.
The Verge analyzes how Copilot will integrate across apps like PowerPoint and Excel.
In another free AI update, Microsoft's Bing Chat is adding DALL-E 3, the new iteration of OpenAI's text-to-image generator. The chatbot will also get something called Personalized Answers, which allows it to draw from your chat history to inform its responses.
"Rivals such as Atlassian, Google and Salesforce have also been racing to update their existing products with generative AI this year," CNBC writes in its coverage of the event.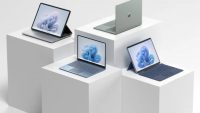 As for hardware, Microsoft's long-awaited Surface Laptop Studio 2 with 14.4-inch screen is powered by an Intel 13th Gen i7 H class processor with 64GB RAM and the option of Nvidia GeForce RTX 4050 or 4060 GPUs for gaming or an RTX 2000 Ada GPU for engineering and design.
The ultra-portable Surface Laptop Go 3 with Intel Core i5 processor and up to 16GB RAM and 256GB storage, is just under 2.5 pounds with a promised 15 hours of battery life. (See links below for additional details and specs of Microsoft's upgraded devices.)
The Surface Laptop Studio 2 is priced starting at $1,999 and will be available October 3, while the Surface Laptop Go 3 starts at $799. Both will feature the updated Windows 11 operating system, including Copilot software.
Related:
Microsoft Refreshes 3 Surface Lines with Internals Fit for Its AI, CNET, 9/21/23
Microsoft Announces Surface Laptop Studio 2 with Upgraded Chips and Ports, The Verge, 9/21/23
Everything Announced at Microsoft's Surface Event, Engadget, 9/22/23
Everything Announced From Copilot to Surface Laptop Studio 2, Gizmodo, 9/21/23
Microsoft Makes Its Surface Go 4 Tablet a Tool for Professionals, PCWorld, 9/21/23
Microsoft Announces Surface Hub 3 with Portrait Mode, The Verge, 9/21/23
Microsoft's Mobile Keyboard App SwiftKey Gains New AI-Powered Features, TechCrunch, 9/22/23
Microsoft Hopes People Won't Become 'Over-Reliant' on Its AI Assistant, The Verge, 9/21/23
Microsoft Wants Its Copilot AI to Be Your Personal Shopper, Engadget, 9/21/23
Topics:
Artificial Intelligence
,
Atlassian
,
Bing Chat
,
ChatGPT
,
Copilot
,
DALL-E 3
,
GeForce RTX 4050
,
GeForce RTX 4060
,
Google
,
GPT-4
,
Intel Core i5
,
Intel i7 H
,
Microsoft
,
Microsoft 365
,
Microsoft Edge
,
Nvidia
,
OpenAI
,
RTX 2000 Ada
,
Salesforce
,
Satya Nadella
,
Surface Go 4
,
Surface Hub
,
Surface Laptop Go 3
,
Surface Laptop Studio 2
,
Surface Pro
,
Windows 11