OpenAI has released the DALL-E 3 generative AI imaging platform in research preview. The latest iteration features more safety options and integrates with OpenAI's ChatGPT, currently driven by the now seasoned large language model GPT-4. That is the ChatGPT version to which Plus subscribers and enterprise customers have access — the same who will be able to preview DALL-E 3. The free chatbot is built around GPT-3.5. OpenAI says GPT-4 makes for better contextual understanding by DALL-E, which even in version 2 evidenced some glaring comprehension glitches.
"DALL-E 3 understands significantly more nuance and detail than our previous systems, allowing you to easily translate your ideas into exceptionally accurate images," OpenAI writes on the DALL-E 3 webpage.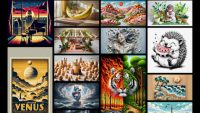 "By using ChatGPT, someone doesn't have to come up with their own detailed prompt to guide DALL-E 3; they can just ask ChatGPT to come up with a prompt, and the chatbot will write out a paragraph (DALL-E works better with longer sentences) for DALL-E 3 to follow," The Verge explains, noting that "users can still use their own prompts if they have specific ideas."
Based on a ChatGPT prompt for a logo for an alpine ramen restaurant, DALL-E 3 came up with options including "a rendering of a mountain with ramen snowcaps, broth flowing down like a waterfall, and pickled eggs on the ground like garden stones," The Verge writes, noting that the chatbot "allows more people to create AI art because they don't have to be very good at coming up with a prompt."
DALL-E, first released in January 2021, came before other text-to-image generative AI art platforms by Stability AI and Midjourney. By the time DALL-E 2 was released in 2022, OpenAI opened a waitlist to control who got to use the platform after criticism that DALL-E could generate photorealistic explicit images and showed bias when generating photos. The company removed the waitlist in September last year and opened DALL-E 2 to the public.
The New York Times warns of AI's potential abuse "as a source of visual misinformation," noting that "Sandhini Agarwal, an OpenAI researcher who focuses on safety and policy," said DALL-E 3 is less likely to be used for deepfakes because it "tended to generate images that were more stylized than photorealistic."
But the executive "acknowledged that the model could be prompted to produce convincing scenes, such as the type of grainy images captured by security cameras," says NYT, adding that OpenAI "does not plan to block potentially problematic content coming from DALL-E 3."
In addition to rolling out to the ChatGPT Plus and Enterprise clients in October, DALL-E 3 will also be made available via API and in OpenAI Labs later in the fall. No mention as to free public availability, but anyone can subscribe to ChatGPT Plus for $20 per month (though based on computational demands, a waitlist sometimes pops back into effect).
Related:
DALL-E 3 Announced, Photographers Can Opt Out of its Image Training Data, PetaPixel, 9/21/23