Having exited the smartphone market in 2017, Microsoft will rejoin it by the 2020 holiday season with the Surface Duo, a foldable, dual-screen device. Developed in collaboration with Alphabet, Microsoft's Surface Duo will run on the Android operating system and feature the Google Play Store. Microsoft stated its intent to develop its own software for the device. The company also announced its Surface Pro X, a thinner version of its Surface Pro laptop, which features a custom-designed chip co-developed with Qualcomm.
The Wall Street Journal reports that Microsoft hardware head Panos Panay stated that the Duo will enable a user to "video chat with someone on one screen while surfing the Internet on the other."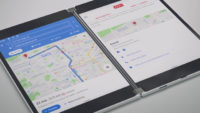 Also due to be released in late 2020 is the Surface Neo foldable tablet, which features a "magnetically attached keyboard and pen, both of which charge wirelessly when connected to the device." The Neo relies on an Intel processor and "runs on a new version of the Windows 10 operating system designed specifically for dual-screen devices."
Panay added that announcing Duo and Neo a year in advance gives software developers time to create dual-screen apps. It is also "working with cellular carriers" in advance of the devices' debuts.
Wedbush analyst Dan Ives, dubbing Surface "the tip of the spear" of a Microsoft ecosystem, noted that, "this remains a mind and market share strategic gamble for [chief executive Satya] Nadella & Co. that is in the early stages of playing out."
In the year ending June 30, "Surface revenue rose 23 percent from a year earlier to $5.72 billion." According to International Data Corp., "devices that can double as a tablet or laptop account for about 10 percent of the personal-computer market … [but global shipments of these devices] are also expected to grow at a faster rate than the broader PC market through 2023."
Wired reports that the Surface Pro X's new SQ1 chip is "supposed to signal a step forward in the evolution of mobile chips for Microsoft products." The Surface Pro X features "an edge-to-edge, 13-inch display with a resolution of 2880 x 1920 pixels and a 2:3 aspect ratio … [and] the same kickstand in the back as its Surface Pro cousins." The device is also "just 0.28 of an inch thick and weighs 1.7 pounds."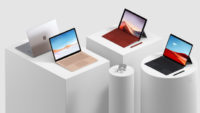 According to Microsoft, the Pro X tablet "should be three times as powerful as the Surface Pro 6 and get about 13 hours of battery life on a single charge." It also features a "dedicated AI engine that will, among other things, simulate a steady eye gaze during video conferences, even if you're looking away from your screen." A newly redesigned Surface Pen feels "more like a soft, flat-sided artist's pencil [and] … rests and charges in a tray on the detachable Typecover keyboard."
The Pro X, which supports LTE broadband, making it "an always-connected computer," starts at $1,000 for 8 gigabytes of RAM and 128 GB of internal storage.
Related:
New Microsoft Products: Surface Duo Phone, Surface Pro, Surface Laptop 3 and Every Other Surface Announced, CNET, 10/2/19
Topics:
Alphabet
,
Android
,
App
,
Artificial Intelligence
,
Battery Life
,
Dan Ives
,
Foldable
,
Google Play Store
,
Intel
,
International Data Corp.
,
Laptop
,
Microsoft
,
Mobile
,
Panos Panay
,
Qualcomm
,
Satya Nadella
,
Smartphone
,
Surface Duo
,
Surface Neo
,
Surface Pen
,
Surface Pro
,
Surface Pro X
,
Wedbush Securities
,
Windows 10