Microsoft is now offering its Xbox Music service on more devices and via the Web. This is an expansion of the limited compatibility that the service offered at its initial release about a year ago. It brings familiar digital music services and software into a combined, single service. Xbox Music's new platform support comes as Google, Apple and others are entering the music-streaming marketplace, with Amazon developing its own music-streaming devices.
"Microsoft is finally following through on a pledge to bring its rebooted digital-music service to devices powered by Apple's iOS and Google's Android — just as competition in the digital-music space is heating up," explains The Wall Street Journal. "Microsoft nearly a year ago launched Xbox Music, a refashioning of the company's long-languishing Zune music service that combined elements of iTunes, Spotify and Pandora."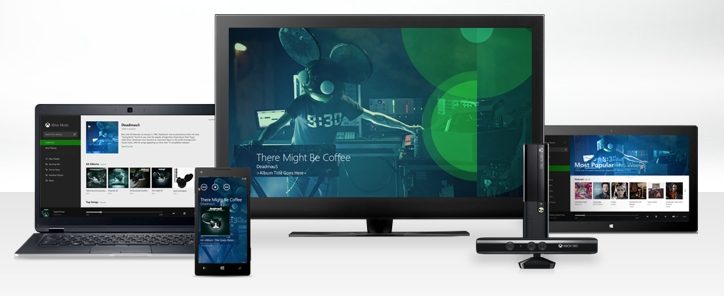 When the music service began, it was only available on Windows Phone, Windows 8 devices and on the Xbox console system. It did not have Web, iOS or Android versions, but the company reported that it would offer these platforms within a year from the service's release.
The online music marketplace has grown since the Xbox Music's initial debut. Apple and Google are expanding into music streaming, and Amazon has been developing its own audio streaming devices, as reported by WSJ in May.
Microsoft states that Xbox Music is a more complete service than others. It has features similar to Spotify's subscription music feature, iTunes single song sales, CD track import capability, and coming soon, Pandora-like personal "radio stations."
Consumers may need a guide to find which Xbox services are available on what device.
The free-streaming music option is only available on the Web, not on mobile apps, and only devices with Windows 8 will have access to personalized radio stations. Comparable to other services, Xbox Music also offers an ad-free subscription service for $99.99 per year that will include additional features.
Topics:
Amazon
,
Android
,
Apple
,
Audio
,
Compatibility
,
Console
,
Device
,
Game
,
Gaming Console
,
Google
,
Internet
,
iOS
,
iTunes
,
Microsoft
,
Music
,
Music Streaming
,
Paid Subscription
,
Pandora
,
Spotify
,
Streaming
,
Subscription
,
Web
,
Windows
,
Windows 8
,
Windows Phone
,
Xbox
,
Xbox 360
,
Xbox Music
,
Xbox One
,
Zune