Microsoft and Samsung Electronics' Harman Kardon division have married digital assistant Cortana with the Invoke speaker to create a new voice-enabled device priced at $199. The smart speaker, the first for Microsoft, comes three years after Amazon launched Echo, the first product to pioneer a now-burgeoning space. The Invoke has a similar form factor to Amazon's original Echo, and can play music, answer questions about sports scores and perform other tasks typical of digital assistant-powered speakers.
The Wall Street Journal reports that, in August, "Harman Kardon said it also would launch the Allure, a voice-enabled speaker using Amazon's Alexa."
Microsoft's Invoke product will offer "connections to Microsoft products that have millions of users, such as the Office productivity franchise and Skype Internet-calling," and will allow users to "add appointments to their Outlook.com calendar and check the time and location of their next meeting."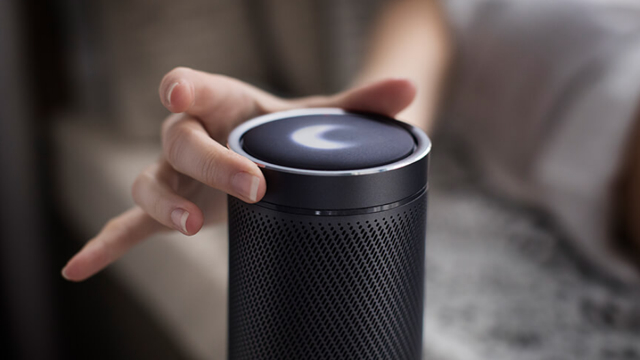 "We have to play to the strengths we have," said Microsoft vice president Andrew Shuman, who heads the Cortana engineering team.
Rival Amazon, however, has "a huge head start in the market and a bevy of voice-enabled speakers that start at $50," as well as a second-generation $100 Echo and "smaller devices that connect to speaker systems, portable versions, and a voice-enabled gadget with a screen."
Another rival, Google, offers an array of similar products, "with devices ranging from a large $400 speaker to a $50 gadget that is smaller than a doughnut," and Apple will shortly launch HomePod, its $350 voice-enabled speaker.
Creative Strategies analyst Carolina Milanesi states that, "Microsoft's speaker isn't just late … it also lacks meaningful differentiation." Although it includes smart-home capabilities, so do the other speakers, she added, and "while it can make calls to phones using Skype, Amazon's and Google's devices enable landline calling."
Another challenge is that, although Invoke plays music, Microsoft "earlier this month said it was discontinuing the ability to stream, purchase, and download music from its Groove Music app." Invoke users will, instead, need a premium Spotify account; the Pandora app "won't be available on the Invoke at launch."
"Something else has to come, and they need to figure out what that is," said Milanesi. According to Microsoft's Shuman, Invoke is just the first step in "taking Cortana outside of Windows and putting it in other environments." "Whatever the device is, we want Cortana available wherever the user is," he said.
Fortune notes that Cortana can also run on Apple iPhones and Android devices, "although it is unclear how much traction it has had beyond the Microsoft ecosystem." Microsoft is also "collaborating with HP on another Cortana-based speaker and with Johnson Controls on a 'Nest'-like thermostat." According to Constellation Research analyst Holger Mueller, although this is a "crucial market" for Microsoft, "the home assistant market is still in its infancy."
Topics:
Allure
,
Amazon
,
Amazon Echo
,
Andrew Shuman
,
Android
,
Apple
,
Carolina Milanesi
,
Constellation Research
,
Cortana
,
Creative Strategies
,
Digital Assistant
,
Google
,
Groove Music
,
Harman Kardon
,
Holger Mueller
,
HomePod
,
HP
,
Invoke
,
iPhone
,
Johnson Controls
,
Microsoft
,
Music
,
Office 365
,
Outlook
,
Pandora
,
Samsung
,
Skype
,
Smart Home
,
Spotify
,
Windows