A team of researchers at North Carolina State University has created a metal alloy that is liquid, and could be used in 3D printers to make flexible electronic parts and devices. The researchers describe the metal as a "stretchable" alloy, and that many small drops of the alloy can be positioned together in order to create bendable metal sheets and potentially other objects. But it is currently expensive, about 100 times more than 3D printing plastic.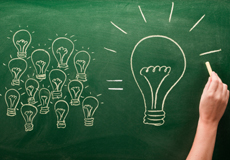 Their paper, published in the journal Advanced Materials, explains that the metal is an alloy of gallium and indium. It is liquid at room temperature, "but when it is exposed to air the alloy can create a thin skin around its outer layer," reports The New York Times. "Think of the way air bubbles look when floating on top of water."
In addition to its flexibility, this metal can be "self-healing," similar to animals that have regenerative abilities. "These stretchable wires can be completely severed with scissors and rapidly self-heal both mechanically and electrically," explains the paper.
"The fact that they are liquid means you could surround them with another material like rubber to make metallic structures that you can stretch and deform," says Michael Dickey, an assistant professor of engineering at North Carolina State.
The alloy could be used in 3D printers with a slight modification, providing more printable options. "You could include this as a functional ink that you use with a 3D printer," suggests Dickey.
"This would be useful for creating bendy electronics… It should be easy to swap the syringe for the nozzle of a 3D printer, potentially letting you print plastic objects containing metal wiring with a single device," notes New Scientist. "Unlike materials such as liquid mercury, the metal is non-toxic so should be safe for commercial use, but the liquid metal won't come cheap, says Dickey — it is roughly 100 times the cost of 3D printing plastic."
A video demonstration of the alloy can be viewed on YouTube.
Topics:
3D
,
3D Printer
,
3D Printing
,
Alloy
,
Bendable
,
demonstration
,
Dickey
,
Electronics
,
Flexible
,
Indium
,
Metal
,
NC State
,
North Carolina State University
,
Object
,
Plastic
,
regenerate
,
Research
,
Terminator 2