Twitter has announced its trial run of a "Buy" button on tweets, which enables users to make purchases directly from their Twitter feeds. So far, Twitter has announced that it will test this new feature with a variety of retailers, nonprofits, and musicians, but movie purchases may not be far behind. Fandango, for example, has already launched a "Twitter Card" feature, which redirects users to the Fandango site so they can buy movie tickets. The "Buy" button is currently being tested by a select number of Twitter users.
The group will be able to make limited-edition or time-sensitive purchases from a variety of music acts, including Brad Paisley, Eminem, Demi Lovato, Hunter Hayes, Panic! At The Disco, Paramore, Pharrell Williams, and Wiz Khalifa.
Home Depot and Burberry will also sell their wares through Twitter. Even nonprofits like DonorsChoose, GLAAD, and the Nature Conservancy will try to attract donors through the social network.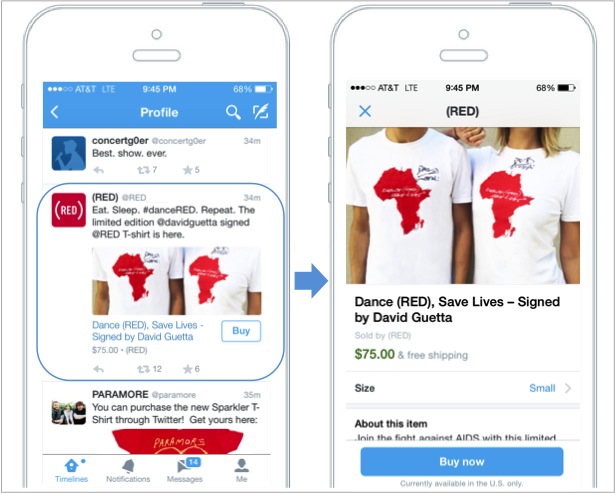 Twitter also seems like a prime place to catch moviegoers. A Nielsen survey released in July found that tweets influenced 87 percent of Twitter users' most recent decision at the box office. About 65 percent of Twitter users follow a film-related Twitter account and a whopping 88 percent of Twitter users take action after seeing a tweet about a film.
Twitter users will often watch a trailer, tweet or retweet about the film, look up movie showtimes, or chat about a movie still.
Fandango's "Twitter Card" is one example of entertainment companies taking advantage of the film fan base on Twitter. While the Twitter Card does not let users purchase tickets directly from Twitter, it does give users more information on current and upcoming films and can redirect them to the Fandango site for purchases.
Variety suggests that if the Twitter Buy button feature is expanded, "Twitter's test could also be used by the entertainment community to sell tickets, digital versions of movies and TV shows, physical Blu-rays and DVDs and games."
For more information, check out the Twitter Blog.
Related Stories:
Twitter Puts the Timeline on Notice and Hints of Group Chats, The Wall Street Journal, 9/3/14
Heavy Twitter Focus Can Be a "Waste" for TV Industry, Study Finds, The Hollywood Reporter, 9/4/14
Why Twitter's Users Are in Open Revolt, The Washington Post, 9/4/14
Topics:
Blu-ray
,
Brad Paisley
,
Burberry
,
Buy Button
,
Demi Lovato
,
DonorsChoose
,
DVD
,
Eminem
,
Fandango
,
Game
,
GLAAD
,
Home Depot
,
Hunter Hayes
,
Movie
,
Movie Trailer
,
Musician
,
Nature Conservancy
,
Nielsen
,
Panic! At The Disco
,
Paramore
,
Pharrell Williams
,
Retailer
,
Social Network
,
Theater
,
Tweet
,
Twitter
,
Twitter Card
,
Twitter Feed
,
Wiz Khalifa