Lucasfilm's ILMxLAB R&D unit just did a limited demonstration of its new "Star Wars" virtual reality experience: "Star Wars: Trials on Tatooine," using the HTC Vive headset. The user, by walking around in a 15×15-foot space, explores the planet's surface, does some maintenance on a Millennium Falcon, meets R2-D2 and fight offs a group of attacking Stormtroopers with a lightsaber. After unveiling the experience to a group of journalists, Lucafilm plans to allow other "select audiences" to also experience it.
"Star Wars: Trials on Tatooine" is an experiment or learning experience, according to Lucasfilm CTO Rob Bredow, who adds that the "ultimate goal" is to create larger, longer experiences that can be shipped to consumers.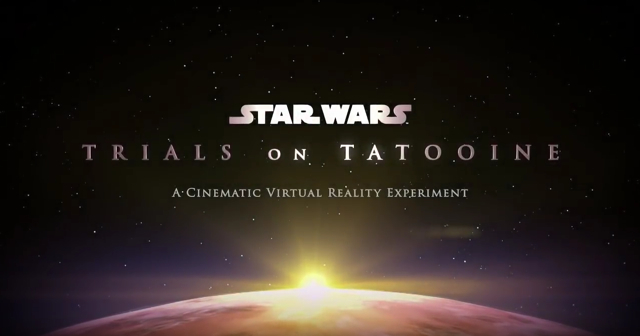 One of the experiments was to create the VR experience in a room with a surround-sound system, so participants didn't have to wear headphones. ILMxLAB also experimented with other senses, such as a sudden gust of wind when the Millennium Falcon lands. Variety calls it "almost a throwback to traditional Imagineering, as it has been used in theme parks for decades."
"It's a simple trick — blow some wind at people," said Bredow, who hinted that ILMxLAB's mix of traditional Imagineering, including touch, with VR could be used for "location-based entertainment."
"It seems like haptics are kind of a superpower for VR," he added.
Through experiments with virtual reality and augmented reality, the ILMxLAB team has learned "not to overburden users with gimmicky mini games or a too complicated backstory," explained Bredow.
"The simpler the better is one of the things we learned," he said, adding that, especially while people are just being introduced to VR, it's important to give them "a chance to relax and immerse themselves."
"Maybe our vocabulary can expand over time," he suggested.
Topics:
Augmented Reality
,
CGI
,
Franchise
,
Haptics
,
Headphones
,
Headset
,
HMD
,
HTC Vive
,
ILMxLAB
,
Imagineering
,
LBE
,
Location-Based
,
Lucasfilm
,
Millennium Falcon
,
Movie
,
R2-D2
,
Rob Bredow
,
Science Fiction
,
Special Effects
,
Star Wars
,
Star Wars: Trials on Tatooine
,
Stormtroopers
,
Surround Sound
,
Video
,
Virtual Reality